Eudora netters continue perfect season
Cardinal volleyball 12-0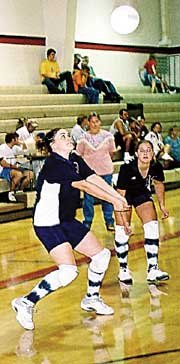 The Eudora volleyball team may be in the midst of something very special.
The Cards opened the season Sept. 2 with wins over Basehor-Linwood, Bonner Springs and an emotional win over nemesis Baldwin.
Eudora then had to wait nine days before taking its show to Pomona. There the Cards matched up with Perry-Lecompton and Pomona. Eudora looked solid in its battle with Perry prevailing 25-12, 25-20. Then the Cards cruised against Pomona 25-9, 25-7.
Following the Pomona pounding the Cardinals journeyed to McLouth Saturday for the McLouth Invitational. Eudora left McLouth with a first-place trophy, an undefeated record, and unlimited confidence.
"These kids are finally understanding why we ask them to work so hard," head coach Jill Stutler said. "And they finally got to see that Saturday; to see their hard work pay off. And it was just incredible to see them be excited for that reason."
The tournament began with a match against Bishop Seabury Academy. Eudora put together its finest performance of the young season, decimating Bishop Seabury 25-3, 25-6. The Cardinals next laid waste to Jefferson County North 25-11, 25-4.
"Those first two matches were incredible," Stutler said. "We just dominated. Every aspect of volleyball we dominated. It was just fun to watch"
The tournament host McLouth gave the Cardinals a fight before falling 25-22, 25-15.
Eudora next tackled Maur Hill-Mount Academy. The Ravens provided the Cards with their first loss of the day. Eudora lost the first game 17-25 before rebounding 25-23 and 15-12, winning the match.
After a long and demanding day the Cardinals squared off against Jefferson West. Eudora tamed the Tigers 25-15 in the first game. Jefferson West responded in a big way, winning 25-12 in the second game. In the rubber game Eudora gutted out a 15-12 win.
The tournament victory meant a lot to the team, especially senior Lauren Kracl.
"My freshman year we got third, my sophomore year we got third, and my junior year we finished second. It was good to get first this year," Kracl said. "We worked hard and we played well."
Eudora carried the momentum from its monumental moment in McLouth all the way to Wellsville Tuesday night.
In Wellsville the Cardinals challenged the Lyndon Tigers as well as the Wellsville Eagles.communication and intensity we were way off. (Monday) we were a little sluggish at practice. I think we were a little tired from the weekend."
Eudora surged to an early 6-3 lead in its first game with Wellsville. But the Eagles shocked the Cardinals with an 8-0 run, taking a 6-11 lead.
A big block by freshman Erin Kracl followed by an ace by big sister Lauren Kracl seemed to place Eudora back on track.
But the Eagles would not go away, eventually regaining the lead at 21-22.
With its undefeated season being slightly threatened, Eudora responded. A key dig by Lauren Kracl and a kill by sophomore Carrie Lister tied the game. Spikes by Lauren and Erin earned the Cards a game point. And junior Kayla Moyer delivered with a little dink to an open court.
In the second game Eudora raced to an 11-2 lead and never looked back.
Stutler thinks some close games like they had against Wellsville are necessary to maintain focus. Her star Lauren Kracl likes the close games for a different reason.
"I prefer the close games," she said. "Those other games are boring."
The Cards will put their perfect 12-0 record on the line at 5 p.m. Tuesday when they travel back to Wellsville for matches with the Eagles, Anderson County and Gardner-Edgerton.
If Eudora continues its recent level of play, Kracl may once again find Tuesday's matches pretty "boring."
More like this story