Eudora's red hot
Cards grab second, third at Snowball Relays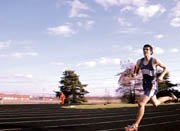 Wellsville's Snowball Relays were aptly named this year. The March 30 season-opening meet was met with a crisp 39-degree chill.
As for the Eudora Cardinals track and field team, it was hot.
Eudora kicked off the season with an impressive showing. The Cardinal boys finished in second place while the girls finished in third. Nearly 20 athletes earned medals.
"Everyone is ahead of where they were this time last year," head coach Phil Katzenmeier said. "Several people performed as well or better than they did all last year."
The boys earned their silver with 101.5 points. Paola took the division with 146 points. Osawatomie claimed third place with 74 points. Host Wellsville finished painfully short of the bronze with 72.5.
Central Heights, Prairie View and Santa Fe Trail also competed at the event.
The host fared better on the girls side. Wellsville earned the title with a strong 146-point performance. Olpe secured second with 104.5 points. Osawatomie trailed Eudora (90.5) in fourth with 83.
Junior Brandan Helm became the season's first double gold medalist. Helm left Wellsville with the title in both the shot put and the discus. Helm won the shot put with a distance of 48 feet, 9 inches. His discus distance reached 132-2.
Junior Brendan Jackson finished fifth in the javelin posting a distance of 143-3.
Senior Bryan Schiller vaulted his way to a gold medal with an 11-6 pole vault. Sophomore Nolan Smith tied for sixth with his 9-0.
Smith also posted Eudora's best high jump at 5-4.
Senior Joey Donahue posted the Cards' best long jump at 20-3. The leap earned Donahue fifth place overall.
The girls, too, managed to bring home an individual gold on the field -- senior Anna Fernandez in the pole vault.
Fernandez took home the hardware with her 9-0 effort. Freshman Melissa Fernandez came in third at 7-6. Sophomore Carrie Lister did her best to steal some of the spotlight from Fernandez. Lister finished third in the javelin (104-5), fifth in the shot put (32-9) and sixth incus (100-3).
Junior Julie White earned a silver medal with her 30-4 effort in the triple jump.
Freshman Erin Kracl marked her debut finishing fifth in the high jump at 4-10.
Sophomore Danielle Gregg placed sixth in the long jump at 12-6.
The team quickly got on track on the track. Eudora earned four golds in running events -- two for the boys and two for the girls.
Senior Tighe VanAnne lapped four in his pursuit of the 1,600-meter gold (4:53.8).
And the boys 400-meter relay team (senior Mark Lister, Schiller, senior Josh Lauer and Donahue) claimed first place with its 45.8 second time.
Freshman Brittney Graff one-upped VanAnne, lapping five en route to a gold medal 3,200-meter effort (12:42.5).
Sophomore Megan Ballock cruised to first in the 400-meter (61.2). Ballock also took home second in the 200-meter (27.6).
Ballock and Graff joined forces with sophomore Cara Seats and freshman Regan Sisson, winning silver in the 3,200-meter relay (10:35.4).
The same group combined for bronze in the 1,600-meter relay (4:30.1).
"I think this meet was a great way to kick off the season for our team and for me personally," Ballock said. "I ran close to some of my best times, and everyone on the team competed very well."
Seats added a fourth-place finish in the 1,600 with a time of 6:10.3. And Sisson placed second in the 300-meter hurdles.
Donahue's busy night included silver medals in the 100 meter (11.2) and 200 meter (23.8).
VanAnne added a couple of bronze medals lending his services to a pair of relay teams. His 3,200-meter relay team (junior Steven Foster, senior Jeff Jones and freshman Cody Burns) took third with a time of 9:18.4.
And his 1,600-meter relay team (sophomore Jacob Gillihan, Smith and Foster) ran a 3:49.8 for third place.
Foster added silver in the 400 with a 56.3.
Jones took the bronze in the 800, posting a 2:21.1.
Burns finished sixth in the 3,200 with a solid 11:56.4.
"It was a good showing for a lot of young kids at a varsity meet," Katzenmeier said. "We've put in a lot of work and really look forward to the remainder of the season as we work to improve each week."
The next stop for Eudora is at 3:30 p.m. Friday at Baldwin City.