Cards come out on top again
Eudora scores pair of top-three finishes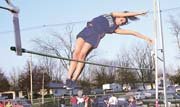 The Eudora Cardinals track and field team is off and running.
Eudora completed its annual trip Friday to the Baldwin Invitational. And for the second time in two meets the Cards earned a pair of top-three finishes.
The performance established that last week's breakout performance in Wellsville was no fluke. This team is ahead of schedule and ahead of most of its competition.
Eudora's girls brought home their first plaque of the season, finishing second overall with 79 points.
Host Baldwin cruised to the team title with an extraordinary 183 points. Anderson County followed the Cards in third with 70.
The Cardinal boys took third with an impressive 70 points. But they would have liked at least one more. Perry-Lecompton edged Eudora by a single point (71) for second place. Anderson County finished in first with 89.5.
The team's expectations are rising while records are falling. Carrie Lister broke a 12-year-old shot put record with a throw of 35 feet, seven and three-quarter inches. And Megan Ballock, Cara Seats, Regan Sisson and Brittney Graff ran the 3,200-meter relay in 10 minutes, 27.33 seconds, breaking an 18-year-old record.
Although not a record, Lister also grabbed gold in the discus with a distance of 114 feet, four inches. She added a fourth-place performance in the javelin (111-2).
"We had a lot of people score points, and we showed a lot of improvement from Tuesday," said head coach Phil Katzenmeier. "We threatened several school records along with the ones we've already broken."
Anna Fernandez fell just a few inches short of pole vault gold. Her 8-6 effort earned her the silver.
Melissa Fernandez posted a 7-6 vault.
Erin Kracl took third in the high jump with a leap of 4-8. She finished seventh in the long jump covering a distance of 13-8 3/4.
Julie White posted a long jump of 13-4 1/4 and a triple jump of 30-7.
Bryan Schiller was the highest placing field athlete for the boys. His 12-foot pole vault earned him a second-place finish.
Nolan Smith vaulted 10 feet, earning fifth place. Jacob Gillihan managed to clear eight feet in his attempts.
Brandan Helm had a good day with third-place finishes in the shot put (46-11) and the discus (139-2).
Chris Durkin added an 84-2 effort in the discus.
Brenden Jackson made great strides in the javelin, finishing third at 155-4.
Brendan Jackson made great strides in the javelin, finishing third at 155-4. Durkin posted a 135-6 and Gillihan a 101-5.
Nolan Smith was Eudora's best in the high jump reaching 5-4. Josh Lauer followed closely at 5-2.
Joey Donahue placed fourth in the long jump with his 18 8- 3/4 leap. Michael Woodward reached 18 feet in the same event.
And Steven Foster hit 35-5 in the triple jump.
Ballock and Donahue joined Lister as Cardinals carrying home individual meet championships -- Ballock in the 400 (60.96) and Donahue in the 100 (11.53).
Ballock and Donahue also added silvers in the 200, Ballock with a time of 27.55 and Donahue with a 23.93.
Graff took silver in the 3,200 with her 12:21.99 effort.
Sisson, Seats, Graff and Ballock finished fifth running a 4:36.10 in the 1,600-meter relay. Seats individually ran a 6:12.69 in the 1,600.
Mark Lister, Schiller and Lauer helped Donahue earn yet another silver in the 400-meter relay, posting 45.93.
Eudora's 1,600-meter relay team ran a 3:51.27, finishing in seventh. The team comprised of Gillihan, Smith, Jackson and Lauer.
The 3,200-meter relay team took fourth. Foster, Jeff Jones, Gillihan and Tighe VanAnne achieved the feat with a time of 9:15.61.
VanAnne had better success individually in the 3,200 finishing second with a time of 10:17.38.
Jackson ran the 400 in a 59.02 and Jones ran the 800 in 2:20.15.
"There have been some outstanding performances in this first week of competition," Katzenmeier said. "We're really excited about the weeks to come."
"I want to thank all of the students from EHS for making the trip to support the team. It was great seeing everyone there."
Eudora's next test comes Thursday at 4 p.m. at Basehor-Linwood.
More like this story