Phenix weather the storm
Rain ends season abruptly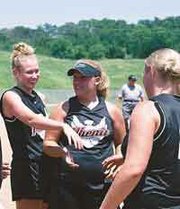 The 18-and-under Lawrence Phenix softball team has been playing under a dark cloud all season. It's fitting, then, that's how the season would end.
The Phenix competed in the B nationals in Lawrence July 19 to 22. However, re-scheduling conflicts after an unseasonal rain storm eliminated the entire losers' bracket from contention. Unfortunately that included the hometown Phenix squad.
It was a disappointing albeit merciful end to a tumultuous summer season.
"Our first pool-play game was atrocious," assistant coach and Eudora head coach Cara Kimberlin said. "But after that we played pretty well.
"It was great to see that many kids playing softball. From a softball fans' perspective, it's wonderful.
The abrupt end to the year was worsened by the fact the Phenix team was coming off perhaps their best effort of the year -- a championship game loss in Basehor.
"The highlight of the season was probably the week before nationals at Basehor's Field of Dreams," Kimberlin said. "Simply from a win-loss perspective, we played really well that weekend."
Kimberlin saw a positive change in the team's approach in the Field of Dreams experience.
"Although some kids from Eudora were on the team, there was a whole different perspective than the high school team," she said. "As a whole, we didn't bounce back when we were down in a game. That's something I had to deal with, and it stressed me out.
"In the championship game, though, we were down 4-0 and came back and tied it up. We ended up losing, but we showed a little competitiveness and bounced back."
The second-place effort was rewarding in and of itself. But the rewards of summer tournaments can extend far beyond the individual season.
"I would hope that my kids playing at this level of summer ball can get some exposure to college coaches," Kimberlin said. "I know there were college recruiters or coaches at most of the tournaments we played at."
Assistant coach was a different role and experience for Kimberlin in relation to the Phenix and the four Cardinals on the team -- Kelsey Epperson, Alissa Hamilton, Kayla Moyer and Jacqueline Pyle.
"As an assistant coach it was nice to step back and look at the game from a different perspective," Kimberlin said. "From an assistant coach's perspective you don't have the pressure of making all the critical decisions. I could look at (head coach Eric Epperson) and see how he handles certain situations. He handled some situations a little different than me. I was able to learn some things from him."
The players, in addition to auditioning for college, were honing their skills.
"(Hamilton) has been a little more patient at the plate and is choosing better pitches to swing at," Kimberlain said. "She's fouling off a lot of pitches until she gets the one she wants.
"Hitting is just one of those things that comes and goes."
The lifelong catcher even took some reps at shortstop.
"I think she really enjoyed it; playing somewhere different for once," Kimberlin said.
Ultra-consistent third baseman Epperson developed as a leader by example.
"Kelsey's a competitor," Kimberlin said. "In that championship game we had runners at first and second and down one run. Kelsey gets up and hits an infield grounder, runs her tail off down the line, and dove headfirst into first base to make it closer. She was out, but it shows that kid is competitive and wants to win."
Moyer, one of the spring's biggest bright spots, had a rougher than expected graduation into 18-and-under play.
"(Moyer) struggled a little offensively," Kimberlin said. "She's learning to play against better defenses and better defenders in A tournaments than in high school leagues.
"I think she'd agree that she got a little worked up and upset with herself and her performance. She was coming out of a really good spring in high school ball.
"I think she's already working through it, though, and she'll be fine."
The story of the rain-shortened tournament may have been fill-in second-bagger Pyle.
"I don't know where she came from but she played in nationals with us," Kimberlin said. "And I have to say she's the luckiest hitter I've seen in my life. She didn't hit in the first game but after that her on-base-percentage had to be like .850 or something. Bloops, swing bunts, booted balls you name it, she got it. But she was getting the ball in play and getting on every time.
"I really would have liked to see her play all summer with us, but it was her decision. She elected to work instead."