Up and away
Balloon ride takes birthday present to new heights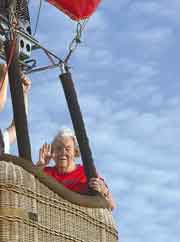 When Alvena Tuggle and other passengers took off from a Tonganoxie vacant lot Friday evening, they didn't really know where they were going to land. Tuggle's pilot said his best guess was about five miles downwind.
Passengers are at the whims of the weather with a hot air balloon ride, as proven by the several-times rescheduled event that served as Tuggle's birthday present.
Her daughter Sharon Musick said the balloon ride was a birthday request from Tuggle, who will turn 85 in September.
"It's not something that happens every day -- especially at her age," Musick said.
However, the ride was a present for last year's birthday.
"This was the first time we were able to get it all together," Musick said.
Musick said her brother Richard Tuggle in Colorado gave the present to Tuggle with Musick doing the organizing with a company out of Topeka. Chris Tantillo of Aerial Adventures said many of the rides he organized celebrated special events like birthdays and anniversaries.
While on the half-hour ride, Tuggle said she could hear people talking on the ground, including her great-granddaughter Aftyn Hankins sending her greetings.
Riding in a hot air balloon was something Tuggle had wanted to do for a long time, she said.
"It was so quiet up there," Tuggle said. "You could see everything."