War paint
Eudora teenagers use communication, teamwork to make a big splat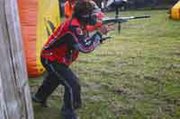 Like many other subcultures, paintball has its own language. Members of the Double K&S paintball team of Eudora can distinguish a "beer can" from a "snake," and they know where another player is when he's at "Dorito 50."
Using code words to describe the differently-shaped inflatable barriers, called air bunkers, and mapping out the field in numerical distances draws similarities to football, a comparison some on the team say isn't out of line.
"We kind of look around at the field and decide who's going where," said Kohlin Martin, a Eudora High School freshman.
Although Martin said the field was about half the size of a regular football field, team captain Blake Stouder said both games involved similar tactics.
"You're trying to work as a team to defeat the other team," he said.
Along with Martin and Stouder, a Eudora High School sophomore, the team comprises other Cardinals as well -- sophomore Tim Durkin and freshmen D.J. Fritzel, Kelson Boyer, Logan Hartpence, Connor Hartpence and Anthony Barta. The team split into two teams Saturday for a competition in Overbrook.
"This time we didn't do that well," Martin said. "Some of our guns kept breaking down."
The weekend tourney marked Martin's first play outside of practice, which the team sets up at Boyer's family's horse pasture, using hay bales for some of the bunkers.
"It's quite a bit different, because we didn't realize how good the other teams are," Martin said.
Connor Hartpence said tournaments often meant playing against older competitors, some of them in their 30s and 40s. And although the teenagers may have the speed advantage, the older players often have more expensive guns.
"At tournaments you're really nervous," Connor Hartpence said.
He and Boyer were instrumental in getting the Eudora team going,
"First we just started playing paintball with some cheap guns, and then we started getting pretty serious about it," he said.
Martin said his friend helped get him involved.
"Each of my friends had gotten me started and said I should, too," Martin said. "They had me use one of their guns, and I really enjoyed it."
A paintball gun then went on the Christmas wish list, he said.
Stouder, whose competitive paintball experience went back three years to his previous home in Washington, said it took a certain kind of person to play paintball.
"You can't be afraid of the paint," Stouder said. "They have to get that past their minds."
Many people got started playing paintball in a natural setting, like a wooded area, he said, but speedball was quite a bit different.
"You can't see through these rubber bunkers," he said. "It's extremely hard, and it's adrenaline-pumping."
Much of paintball's allure, Connor Hartpence said, was the pre-game adrenaline rush. He said paintball was comparable to a team sport but also a bit like laser tag.
"You get to shoot people and not hurt them," he said.
The nature of the sport meant paintball often got an unwarranted bad rap, Stouder said. He praised the referees who not only kept the game fair but who also kept the players safe by ensuring proper equipment was used on the field.
Plus, reports of people using paintball guns inappropriately gave a bad name to the otherwise innocuous activity.
"That's really not who we are and not who we want to represent," Stouder said.
Double K&S does want the chance to represent Eudora High School by creating a paintball club. Stouder said he planned to approach the USD 491 Board of Education some time this school year.
Connor Hartpence said having an organized club would allow the group to get more students involved and would help their effort to secure sponsors. Aside from Double K&S, Stouder said the group was working on sponsorship from other area businesses to finance the sport, which can be rather expensive.
"We'll just try to practice whenever we come up with the money," Stouder said. "If everybody has an OK amount of money, we'll go out, practice, and have a good time."
More like this story