Wrestlers make turnaround
Eudora nabs second place in Atchison tournament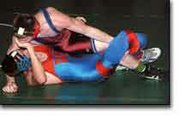 The Eudora wrestling team bounced back from a lopsided, season-opening loss to Santa Fe Trail with a second-place finish Saturday at the George Worley-Larry Tilton Tournament in Atchison.
The second-place finish was out of a 10-team pool that included host Atchison, Wellsville and Pleasant Ridge.
One of the problems that plagued the Cardinals the last time out was open weight classes. In the match against Santa Fe Trail, Eudora forfeited 30 points in open classes.
The Cardinals were able to minimize the lost points this time around.
"We only gave up 18 points this time," coach Bill DeWitt said. "That isn't great, but it sure beats the 30 we gave up last time. We're also getting down to our weights individually, which will make a big difference."
DeWitt was pleased with the turnaround.
"Our conditioning was good," he said. "It was a very workman-like effort."
The Cardinals began with a decisive victory over Wellsville 54-18. Senior Andy Coffman led the way with a first-period fall over Travis Moyer. The rest of the team followed suit as sophomores Michael Whitten and Kyle Scrimsher also won in the first period at 140 and 145 pounds, respectively.
The match against Pleasant Ridge proved a little more difficult, as the Cardinals edged out a 39-30 victory. Junior Miles Cleveland prevailed in the 135-pound class with a third-period victory over Matt Meinert. Cleveland was one of three wrestlers who finished undefeated for the tournament.
The hosts of the tournament proved a formidable match for the Cardinals as well. Eudora managed a tough 42-36 victory over Atchison. Senior Chris Durkin continued to wrestle strong, scoring a victory by pin in the 215-pound class.
"Monday was kind of the first-time jitters," Durkin said. "I think everyone was more relaxed this time around."
The Cardinals string of victories ended when they ran into ACCHS-Effingham, losing 40-18.
"We just ran out of experience against those guys," DeWitt said. "Our inexperience really showed."
He added that the forfeits also came into play as Effingham took full advantage of the 18 points given to them by Eudora.
The Cardinals went into Saturday's tournament without the services of senior wrestler Josh Barr at the 189-pound class. Barr is expected to compete this weekend at the Eudora Invitational tournament.
After the strong finish at Atchison, the Cardinals look ahead to the weekend, knowing there is still room for improvement.
"The weight is the biggest thing," said Coffman, who was one of the undefeated Cardinals at Atchison. "We also need to get a little more from the younger guys."
DeWitt, although pleased, knows what needs to happen next.
"It was a great start," he said. "But there's a lot of work to do. It's only going to get tougher. This weekend's tournament will be a meat grinder, and we need to be ready."