Cards take six to final round
Barr comes back with strong showing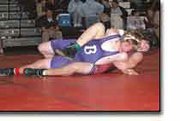 The Eudora Cardinals wrestling team finished the Eudora Tournament of Champions feeling good about its effort. The tournament, which began Friday, featured 24 teams, including state heavyweights St. Thomas Aquinas. The Friday portion of the tournament was in a pool-play format to determine which wrestlers would move on to Saturday's championship round.
The Cardinals finished Friday's action with six wrestlers eligible for Saturday's bracket session. Seniors Chris Durkin, Josh Barr and Andy Coffman all moved on to the second round. Junior Miles Cleveland and sophomores Tim Durkin and Michael Whitten joined them.
Barr had a strong showing Friday, which was his first meet after suffering a knee injury in Eudora's final football game. On Saturday, he finished third in the difficult 189-pound class after defeating Blue Valley's Cody Scribner.
Despite the strong showing, coach Bill DeWitt saw much that needed to be done for his senior leader.
"He's still a bit rusty," he said. "He wrestled well, but he needs to get into shape."
One of the highlights of Sat-urday's session came in the third-place match of the 135-pound class.
With a minute to go in his match, Cleveland was in a bit of a bind. He trailed 1-0 in a hard-fought match with Stuart Jones of Lansing, and points were hard to come by. So Cleveland reached down and found the last bit of energy he needed, pulling a crucial reversal and vaulting himself into the lead 2-1 as time kept evaporating.
"I wrestled him (Jones) last year, and he came out on top," said Cleveland. "The match went basically the same way, so I knew that I had to come up with something."
Cleveland finished the match with a two-point takedown, which helped him capture third place with a 4-2 win.
"That's as good as I've seen Miles wrestle," DeWitt said. "I've watched watched him now for three years and that was a great effort."
The Cardinals had a bit of a scare Saturday as well. During his first match, Durkin hit his head hard on the mat. Durkin was dazed briefly but was not hurt. However, the National Wrestling Federation has a rule prohibiting a wrestler's return to competition after an injury without approval from a team physician. Durkin did not return to the tournament.
DeWitt chose not to push the issue.
"It was in the best interest of Chris to keep him out," he said. "He was OK, but with the rule and all it was just not worth it to keep him in. Sure we'd like to win, but it's not worth a wrestler's health."
Tim Durkin finished fourth in the 171-pound weight class and was a pleasant surprise to his coach.
"I was pleased with Tim's performance," DeWitt said. "That weight class is tough, and for a sophomore to place that high was a welcome surprise."
Coffman placed sixth in the 130-pound class, while Whitten finished eighth.
Overall the Cardinals placed 13th as a team, with Aquinas taking the championship crown with a comfortable 77-1/2 point margin.
The Cardinals next wrestle Saturday at the Emporia Winter Classic. The meet begins at 8 a.m. at Emporia High School.