On the rebound
Eudora bounces back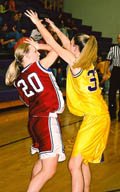 The Eudora Cardinal girls basketball team (11-4) has learned that to be the best they have to beat the best.
In the Frontier League that means beating Baldwin, the Cards archrival, and Spring Hill, the defending 4A state champions.
Eudora already knocked off Spring Hill 55-44 last month but lost to Baldwin 63-52 in the finals of the Top Gun Tournament in Wellsville.
The Baldwin loss ended a remarkable eight-game Cardinal winning streak.
Eudora responded with an amazingly uninspired effort -- a 70-57 Cardinal loss at Silver Lake.
The slide amplified the importance of the Cards' Tuesday trip to Spring Hill.
Eudora rebounded with a dominant and balanced 64-45 victory.
"We needed that going into Baldwin," head coach Cara Kimberlin said about her team's Friday rematch with the Bulldogs. "The nice thing was that we had four girls in double figures tonight. That's the most balanced scoring we've had in a very long time."
The back-to-back losses exposed the Cards' unbalanced attack.
Eudora is desperately searching for consistency from its outside shooters. The Cardinals' primary off-guard rotation -- Michelle Deluna, Kayla Moyer and Jodi Wingebach -- was a combined 6-of-36 for 14 points in the team's two recent losses.
The Cards' post rotation -- Erin Kracl, Lauren Kracl and Carrie Lister -- was far more successful. This group poured in 92 of the team's 109 points."Teams are going to pack it in, and if our perimeter people don't step up and prove themselves, nobody's going to respect us," Kimberlin said.
Eudora took its first step toward respect Tuesday. Deluna, Moyer and Wingebach connected on 12-of-20 shots for 28 points.
Deluna was three-of-six from the field including two three-point baskets. Moyer provided a defensive spark off the bench, scoring six points in transition.
And Wingebach was six-of-nine for 12 points.
"They've been collapsing on the inside so somebody needed to step up and start shooting from the outside," Wingebach said. "I was feeling it tonight -- I just knew it was going in."
Eudora's long-range efficiency eased the pressure on an ailing star and a change in the lineup.
Lauren Kracl had to overcome the lingering effects of a food poisoning episode. And she did, to the tune of 19 points.
"It was an excellent all-around team effort," she said. "Jodi (Wingebach) shot well, Michelle (Deluna) did a good job, and Carrie (Lister) really stepped up tonight. It was definitely a team win."
Lister, a surprise starter, certainly stood up and stood out. The sophomore shined with 12 points and was very active on the offensive glass.
She got the start over freshman Erin Kracl.
"(Lister's) been playing well and she's been practicing exceptionally well, so I felt it was time to reward her," Kimberlin said. "And I thought she would match up with (Lacey) Cunningham a little better than Erin (Kracl) would."
Cunningham finished with just eight points.
A year ago, Cunningham was a dangerous complementary player on a senior-laden championship team. Now, however, she finds herself the focus of many defenses -- including Eudora's.
Ultimately, she proved no match for the combination of Lauren Kracl and Lister.
Spring Hill hung with Eudora early. After about four minutes of play, the game was tied at seven. The Cards then orchestrated a 9-2 run, ending the quarter with a 16-9 advantage. Eudora's 16th-point came on a drive and dish from Deluna to Lister for a wide open layup at the horn.
Eudora's inside dominance prompted Spring Hill to employ a zone in the second quarter. Initially, the change disrupted the Cardinal flow but Wingebach quickly changed that.
Wingebach provided four deep zone-busting jump shots. The fourth stretched the Cards' run to 22-4.
Eudora led at the half, 32-15.
The Cardinals looked a little too comfortable on defense in the second half, allowing the Broncos to post two 15-point quarters -- each matching their entire first half output.
But the outburst was in vain, as Eudora's steady offense ensured an easy victory.
"Our offense will come naturally -- we'll find ways to score," Kimberlin said. "But we've got to play better defense."
Now, the stage is set for Eudora-Baldwin II. The Cards travel to Baldwin Friday the 13th hoping their luck will change.
Eudora entered the first meeting riding tremendous momentum and confidence. But the team also carried around a monkey on its back. The frustration of the series has frequently betrayed the team's confidence.
"I think we're going to ride off our loss last time," Lauren Kracl said. "We are definitely ready and we know we can beat them.
"It's good we got the win tonight. It helps our confidence level a little bit."
The key is transferring off-court confidence onto the court.