Song and chance
Eudora teenager Kim Scherman explores opportunities as a vocalist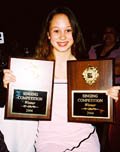 The first stage that singer Kim Scherman remembers performing on was her grandmother's freezer, on which she sat a young girl and listened to "Mother Goose." After her first solo -- a preschool performance she barely remembers -- the Eudora Middle School eighth-grader has moved on to bigger venues, like local talent shows and opening for country music performer Chely Wright in her hometown of Wellsville.
Most recently, Scherman took her talents to a bigger stage, at the American Modeling and Talent Competition last month in South Carolina, coming home with first place wins in the teen pop and teen country categories.
Her life-long experiences with music, beginning with humble performances on a deep freezer, have shaped how Scherman views her future. That realization came in part after her first performance with a live band, singing songs like "Stupid Cupid."
"I want to do this the rest of my life," she said.
Scherman's approach to music -- and the lessons she takes from vocal instructor Karen Boyer -- differ from most teenagers' experiences.
"If you say, 'You've got to practice...'" said Kim's mother, Gee Scherman, making a face and mumbling in imitation of a typical student's response. "Not Kimberly."
If Kim's having a bad day, Boyer said, the first thing her student wanted to do was sing.
"When Kim's over here, she gives her heart and soul," Boyer said.
The close bond between student and teacher reflects the amount of time and effort the two put into Scherman's talent.
"This is my bed," Kim Scherman said jokingly, patting Boyer's living room couch.
Qualifying and competing for the national competition in South Carolina was the first time the young singer had done anything of that magnitude, but Scherman said performing for large audiences hadn't made her lose her cool.
Perhaps that's because her instruction has come not only in the form of improving her voice but perfecting her stage presence as well. Boyer said from the beginning she had Scherman singing with a microphone in hand.
"You have to be able to sell yourself," Boyer said. "You can't just sit there like a bump on a log."
In addition to practicing classic singing choreography, Scherman pays attention to other singers, too.
"I listen and pay attention more to what movements they make," she said.
Scherman's research comes from unlikely places for the teenager who prefers to listen to adult contemporary, contemporary Christian and opera music, like that of Charlotte Church.
"I don't usually listen to stuff other kids listen to," she said.
For the national competition, Scherman sang a Celine Dion song, "I Surrender," for the pop portion, and "Independence Day," a Martina McBride song, for the country portion. One caveat of her performances was that Scherman was only given a minute to show off her four-octave range, meaning song choice was imperative.
"You have to show the strength of her voice and how sweet her top range is," Boyer said.
Although Scherman's sights were set on singing for the national competition, qualifying participants had to garner a certain number of points, earned by entering a variety of areas. Scherman gave a shot at modeling, which had judges evaluating how photogenic she was as well as performing in a commercial. Today, Scherman can still deliver her lines for Color Stay lip gloss.
With her focus on singing, another feather in Scherman's cap was getting numerous call-backs from different agencies at the national competition. As her teacher, Boyer took pride in the fact that one of them made a point to seek out Kim specifically.
Boyer said call-backs allowed agents to offer tips to performers and suggest what they should do next, such as sending photos, keeping in touch with agencies, continuing to sing publicly, and maybe even visiting Nashville or New York. Boyer said they were mulling options for Scherman to continue performing and competing.
In the meanwhile, Scherman has heeded advice to write her own music. With an abundance of "snow days" off from school, Scherman said she'd amassed quite a few lyrics in the past few weeks. Boyer said she was working with the student to set the words to music.
"It has to be catchy if people don't know it," she said.
No matter what the tune, Scherman said her family -- mainly her mom, Gee -- was her biggest supporter.
"She's got a God-given talent," Gee said.