Cardinals show their claws
Eudora tops De Soto with missed Wildcat three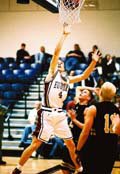 The Eudora boys basketball team this season has shown an ability to beat just about anybody and lose to just about anybody. Why should the final week of the season be any different?
Eudora led Paola through three quarters Friday before falling 43-38.
But the Cardinals responded on senior night Tuesday with a thrilling last-second win over rival and neighbor De Soto, 45-43.
Eudora's win improved its season mark to 9-10. The Cards have a shot at .500 if they can win on the road Thursday in the regular season finale at Gardner-Edgerton.
The De Soto victory ---- coupled with Tonganoxie's surprising loss to Immaculata on the same night -- sets the stage for a first-round sub-state match-up Tuesday between Eudora and Tonganoxie.
"It was a huge win, because I think we got the ball rolling again," senior Chris Gabriel said. "Now we go to Gardner, keep it rolling there and maybe go into sub-state on a roll."
It was Gabriel rolling down the court for the game-winner against De Soto.
The Wildcats looked to inbound the ball from under their own basket with 13.5 seconds remaining in a 43-43 tie. Gabriel intercepted a poor inbound lob at the free-throw line and took it the distance for the game-winning layup with seven seconds remaining.
De Soto's Ryan Brown missed a contested off-balance three at the buzzer, and Eudora pulled off the victory.
It was a big moment for the Cards' six seniors: Tyler Cleveland, Josh Brouhard, Gabriel, Josh Lauer, Jesse Montgomery and Aaron Westerhouse.
"I just thought a win would be great tonight, but making the winning bucket is even more special," Gabriel said. "It's great for the team. We knew we could come through, and we got the win."
The play brought the fans to their feet but just about put Stein on the floor.
"We anticipated they were going to try to get the ball to Brown," Stein said. "So, we wanted to try and deny him the ball, contest the shot, block out, and go to overtime. I never dreamed we'd get a steal over the top, and I also never dreamed Gabriel would end up with the ball and be able to get it coast to coast.
"And then when he shot it left-handed, I thought I was going to die right on the spot. But he hit it."
It was a big day for fellow senior Westerhouse as well. The 6-foot-1 guard/forward has been forced into uncharted waters this year. In the past, Westerhouse was asked to perform as an outside shooter, but this season, in wake of the team's size woes, he has had to play down low. The transition hasn't been easy.
In recent games though, Stein has allowed Westerhouse to revisit his outside game, Eudora's offensive woes ultimately providing the opportunity.
Tuesday, Westerhouse put both games together in one package. He was effective from outside with a three-pointer and inside on cunning cuts to the basket. He led the Cards in scoring with 11 points.
"Aaron (Westerhouse) did some good things," Stein said. "He cut back door to the bucket and got some real cheapies. I think he did the best job of reading defenses that I've ever seen him do. He really did a good job."
It turned out to be a fairly strong evening for most of the seniors. Lauer finished with eight points, including a pair from beyond the arc.
Brouhard also tossed in a pair from downtown, but a sprained ankle early in the second quarter ended his night prematurely.
Montgomery chipped in with five points.
Cleveland's night wasn't as statistically satisfying. A long jumper midway through the second quarter accounted for his two points. Among his eight misses was a floater in the lane with less than a minute to play.
But the veteran point guard still played a critical role in his team's win.
His control of the point allowed the Cards to generate a three minute possession late in the contest. And there is no statistical category for leadership.
The seniors accounted for 42 of the team's 45 points -- sophomore Mark Abel's second-quarter three-pointer the exception.
"Most of these guys have been with me for three years," Stein said. "You always miss the kids, but the thing you feel bad about is when they're a senior they don't have a tomorrow. I've got a tomorrow, because I'm coming back."
The boys begin sub-state action at home 7 p.m. Tuesday against Tonganoxie.
More like this story