Girls hold on to standout record at Louisburg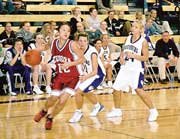 The Eudora girls basketball team is very quietly putting together a record-breaking season.
The Cards sit in a at 8-2 on the season, an easily figured 80 percent winning percentage. They finished last season at 7-14 -- a winning percentage of 33 percent. That's a 47 percent improvement.
Eudora surpassed last year's win total with its 54-44 triumph on the road Tuesday at Louisburg. It was the team's second meeting in two weeks. The Cardinals defeated the Wildcats 52-38 on Jan. 6 in Eudora.
But the win Tuesday night carried the greater significance of a league game. The victory improved Eudora to 5-0 in the Frontier League.
Neither win over Louisburg was particularly pretty. But that's not the Wildcats' style of play. They like to play physical and even a little frantic.
That frantic style surrendered more than two dozen turnovers Tuesday night to the Cardinals.
"It was ugly," Eudora head coach Cara Kimberlin said. "We didn't capitalize on their turnovers consistently enough. It was a lot like the way we played them last time. They forced us to play their sloppy, scrappy, rugby-like style of game."
Perhaps the biggest difference between this team and last year's squad is the ability to win games "ugly." Eudora carries a swagger and confidence with it this year that enables it to win games it would not have won in the past.
But that's not to say the Cardinals want to play that way.
"We can't play like this night in and night out," Kimberlin said. "We're not going to play teams that are going to force us to play like that either. We've got to get to the point where we control the game and get teams to play at our level, not the other way around."
No matter what level the game is being played, Eudora will ride the back of senior superstar Lauren Kracl. The 6-foot standout is all but a shoo-in for the all-state team. And thus opposing defenses will have a consistent and indisputable focus: to stop her.
Although Louisburg didn't stop Kracl, she was slowed down a bit. .
"I think defensively they did a good job of taking (Kracl) out of her rhythm," Kimberlin said. "They hounded her everywhere she went. It got her out of sync, and it frustrated her."
And at times it frustrated her teammates.
"They've got to figure out that's the way teams are going to defend us. We can't be surprised by that," Kimberlin said.
Even the Louisburg student body had an isolated focus. The group cheered louder for Kracl than they did any of their own players -- in a mocking tribute, of course. They held up signs of love, admiration and even propositions of dating.
"Apparently the guys from around (Louisburg) can't get a date with any of the girls," Kimberlin said. "They were just trying to get in her head, but she's a senior, and she's mature enough to flip it the other way and say 'I'll show you.'"
Despite the Wildcats best defensive efforts, Kracl pulled down yet another double-double (18 points and more than a dozen boards).
The game got off to an anything but ugly start -- for Eudora, anyway. The Cardinals took a 10-7 lead into the second quarter, thanks to a rare turnover-free opening period.
Louisburg closed to within one at 12-11 early in the second. But a Kracl three-point play repelled the threat. Eudora closed the half on a 10-2 run, establishing a seemingly comfortable 28-15 halftime lead.
The Cardinals may have come out of the half a little too complacent, as the Cats out-scored the Cards 12-8 in the third.
In the fourth, Eudora hit a free throw early in the frame, extending its lead to 10 at 37-27. Louisburg responded with a 7-0 run, remarkably closing to within three.
The Cards were the beneficiaries of strong bench play.
"(Carrie Lister) really had a good evening," Kimberlin said. "She played good defense and was physical at grabbing balls on rebounds."