The prize was quite alright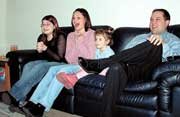 It's not everyday a person goes to California with nothing and returns with a brand new car and a diamond ring.
But Eudora resident Rachel Hernandez did just that. Accompanied by her sister Victoria McDowell, Hernandez was chosen last month to be on the game show The Price is Right and won a 2004 Cavalier as well as a diamond ring.
"My sister was (in California) on business, and I decided to go visit for a weekend," Hernandez said. "I always watch the show, and we thought it would be fun to try to get on."
Hernandez, a stay-at-home mother of two, said she and her sister ordered the tickets online, but the show over-sells the tickets and it was a first come, first serve basis. The first 300 people got into the studio.
"There were four people who camped out the night before and were first in line," Hernandez said. "We were there at 4:30 in the morning."
Hernandez said there was an interview process as well as paperwork before she could enter the building. There are several eligibility rules for which everyone must be screened. For example, Hernandez said if she had been on any other game show within the past 10 years she would have not been eligible for entry.
"The producer from the show came out and interviewed people in groups of 10," she said. "All they asked was your name, where you were from and what you did. I didn't say anything that stood out, but the group behind us told us they knew someone from our group was going to get on."
After she was deemed eligible, Hernandez got the famous name tag everyone wore on the show.
Hernandez and her sister wore matching shirts that read "Two sisters with one big dream, we wanna 'come on down.'" Hernandez was the sixth person to be called to the front to compete to get on stage.
She said she reacted like any typical person would, by yelling, screaming and jumping up and down. Immediately after she got to the front, she got on stage by guessing the closest price to a diamond ring.
"I was in total shock," Hernandez said. "I kissed Bob Barker on the cheek. You always see people do that, and I did it."
Hernandez said she played "The Money Game" to win her car. She was given one number out of a five-digit number and had to correctly guess the first and last two numbers.
"The price was $16,625 and there were blocks of two-digit numbers," she said. "You have four guesses, but I guessed 16 and 25 right away."
Although Hernandez has not claimed the prizes yet, she has ordered a 2004 black Chevy Cavalier. It is expected to be delivered in two weeks. She said she had to claim the car and ring before April 24.
The show aired at 10 a.m. Tuesday on CBS. Hernandez said her husband took off work to watch the show with her. She also threw a party at a Lawrence restaurant for her family.
"I always tell people that this is a story I never get tired of telling," Hernandez said. "This is definitely the coolest thing that's ever happened to me."