Teaching discipline
Martial arts focuses on precision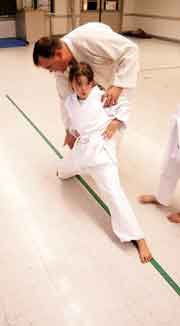 The Eudora Parks and Recreation Department has added a martial arts program to its growing repertoire.
Instructor Bill Brune approached recreation director Bobby Arnold about adding such a program, and the Parks and Rec head agreed June 1 marked the official beginning of this new venture.
"We were looking for something new for the town to do; an option other than basketball or softball," Arnold said. "It's just a different thing for different people to do.
"And it's very popular with little kids right now. There's a lot across the country doing martial arts."
It's popular with the youth, but the program is open to men and women of all ages. Currently the class has about a half-dozen members. It meets from 7 to 8:30 p.m. Tuesdays and Thursdays.
"It's starting off right now a little slowly, but we're adding new people every so often, and it will take off," Arnold said. "Anyone can still sign up. They might just have a little catching up to do.
"We just want to expose Eudora to the martial arts program."As the program grows, multiple divisions will evolve based on age, gender and skill level. Arnold anticipated this evolution to take at least three months.
But for now, Brune's gang will hone their skills together -- skills that translate beyond the classroom.
According to the American Martial Arts Academy's Wed site martial arts promote fitness of mind and body. Complete martial artists strive to improve physically, mentally and spiritually while polishing combat skills, it says.
These are the predominant philosophies that have always governed the martial arts community. And is equally the backbone of Eudora's program, Arnold said.
The group has yet to involve contact. That will come in time, and time is an essential element, Arnold said.
"(Martial arts) is not something you can just do in a week or two or even a month; it's a commitment," he said. "But we're giving people a chance to do it for a month and see if they like it."
After that initial month, participants will be charged $35 a month.
This class is, after all, as much a business venture as it is a physiological and psychological exercise.
"From a business standpoint, when you start something new you don't want a lot of start-up costs," Arnold said. "And this didn't have any. And as a service to the town people, there aren't many martial arts opportunities in town."
The Parks and Recreation Department would like its martial arts program to be the first of many new programs, Arnold said. The department has been run as a full-time office for about three years now, offering everything from water aerobics to guitar lessons. Including at least 14 sponsored summer camps, the department offers nearly two dozen recreational opportunities.
Aspiring black belts can contact the Eudora Parks and Recreation department at 542-1725 for more information.