Pyle blazing trails with Pioneers
Cardinal grad finding his place at Grinnell College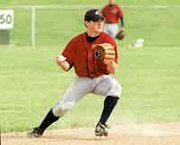 Andrew Pyle is one of the most accomplished and acclaimed high school athletes in Eudora history. The two-sport superstar left Eudora as an All-State First Team selection in both football and baseball, ranking statistically among the best athletes in Kansas and beyond.
Pyle became just the third player in Kansas history to rush for more than 2,000 yards in consecutive seasons. And on the diamond, he hit .548 with a .903 slugging percentage.
He quite simply dominated the 4A landscape -- and cherished every minute of it.
"I absolutely loved it," Pyle said. "I think everyone should experience a small town atmosphere. You learn so much from it. There are experiences you can't get from a big school.
"You know everybody, both coaches and players, really well. I definitely couldn't think of going to a different school. It was a great experience, and I wouldn't trade it for the world."
Pyle then offered his services to Grinnell College in Iowa. There he continued his familiar two-sport status as a freshman.
But something alien to Pyle developed early in his collegiate playing career -- injuries.
"I didn't really have any highlights in football," Pyle said. "I didn't have any big runs or anything.
"In the fourth game I was going to play the whole second half, but I broke my toe in the second quarter."
Pyle finished his freshman campaign with just eight carries for 19 yards, two receptions for six yards, and six kickoff returns for an average of 12 yards -- hardly resembling the resume he had amassed at Eudora.
"It was a drag standing on the sideline and just watching," Pyle said. "It was something I've never had to deal with before. It teaches me not to take anything for granted."
And it's not likely he'll take his second chance for granted. Pyle was approved for a medical redshirt and will retain his freshman year of eligibility.
The baseball season brought more of the same.
A hamstring injury sidelined Pyle for 10 games."In baseball, there was nothing big there either," Pyle said. "I had a couple of clutch hits, but I wasn't really pleased with my performance."
Pyle hit a surprising .226 with no home runs and nine RBIs. And most shocking was his .720 fielding percentage.
His injury set him back a bit; his overzealous comeback provided the rest of the damage.
"I worked on not getting mad at myself when I did something bad at baseball," Pyle said. "I took the approach at Grinnell that I would get another chance at the plate if I made an out or in the field if I made an error.
"But when I got hurt I went back to my old ways, trying to prove I was OK."
Pyle finished with the team-lead in walks with 10. He was fifth on the team in on-base percentage and fourth in doubles.
Despite the disappointments, Pyle stayed focused and positive.
"I enjoy playing sports up there," he said. "We were not as successful as I would have liked, but we have young talent on both teams -- especially baseball, where we only lost one pitcher.
"In football we have a strong senior class coming back. My class is strong, too."
The teams look strong on paper, but it's the attitude that will determine the turnaround.
"We need to develop a harder attitude," Pyle said. "The emphasis is on academics so sports don't get as much attention. That bothered me at first. I thought we needed more balance between the two."
That's a definite change for Pyle, who learned from a powerful tandem at Eudora.
"I think my high school coaches were more intense than my college coaches," Pyle said. "It goes along with their different styles and whatever works for the team. Coaches should know their teams better than anybody and develop a style around that."
Like Pyle's former baseball coach.
"Coach (Dirk) Kinney was really intense and was a blast to play for," Pyle said. "You knew what to expect. Winning was everything, and I liked it that way.
"Winning is a big emphasis at Grinnell, but not as big an emphasis. I think the coaches at Grinnell realize that a lot of the kids there are not there to play sports. They really focus on school.
"I don't want to get in trouble and say Eudora kids don't care about school, but when you're in high school, sports are everything."
It won't be long before Pyle gets his chance at redemption.
"It's amazing how fast it goes," Pyle said. "It seems the summer is slower than last year at Grinnell. I guess it means I had a pretty good year there."