Early bloomers
Sunflower games give wrestling season quick start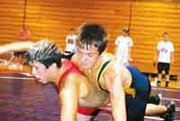 Eudora wrestling coach Bill DeWitt and a collection of current and former Cardinal grapplers participated Saturday in the 15th annual Sunflower State Games. The Olympic-style event in Topeka earlier this month.
The games provide competition to Kansans of all ages and skill levels. In 2003, the Sunflower State Games boasted more than 6,300 participants.
Eudora offered nine wrestlers in 2004 -- including Josh Barr, William Bock, Miles Cleveland, Andy Coffman, DeWitt, Chris Durkin, Mike Paxton and David Westerhouse and Michael Rockhold Jr.
Barr, Cleveland and Coffman all returned to Eudora with bronze medals.
DeWitt and Paxton celebrated silvers.
"I thought they all wrestled pretty well," DeWitt said. "Usually the wrestlers there are pretty tough. With something like this in the middle of the summer, usually the only wrestlers in it wrestle really well."
The Sunflower State Games is a member of the National Congress of State Games and is recognized by the Untied States Olympic Committee.
Participants can compete for gold, silver and bronze medals and an opportunity to compete in the national State Games of America competition ---- fed by the 40 states nationwide that have state games.
"It's a pretty good atmosphere," DeWitt said. "It's the state games. You try to compete to be in the top-three in the state of Kansas.
"The experience is tremendous, and it's a lot of fun."
The group's success was in part that of productive preparation and practice.
"We've been meeting once a week on open mats," DeWitt said. "It was totally voluntary. Our goal is just to try and get some practice in.
"Most of the guys have been very diligent. We don't want to spend the summer doing hardcore training. We're just trying to combine weight training and some mat work."
The highlight of the event may have been the Cardinal coach's return to the mat.
"It was my first competitive match in probably 11 years, since some intramurals at KU," DeWitt said. "So, it was nerve-racking going into it. It took a while to adjust because it had been so long.
"I wrestle with the kids in practice every day, but it's such a different perspective."
DeWitt's comeback performance earned him a berth in the State Games title match for his age group. There he suffered a tough 3-1 loss.
"I did a lot of the things I tell the kids not to do," he said. "But it was a good time. It's something I really enjoy, and I'll continue doing it each summer, whether the kids do or not.
"I'll try to take care of my body halfway good enough to still have fun getting out there and testing my skills."
An enhanced training regiment will almost certainly precede DeWitt's involvement in the event in the future.
"It reminded me how much I enjoy the sport," he said. "I'm going to continue to do it and let the kids have a good laugh as long as they're putting in the effort.
"I'm going to have to get in better shape for it next year, though. Training's something I hate, but you have to do it. There's no happy medium. You've got to do it all the way."The coach's efforts on the mat could provide added credibility to the already widely respected coach -- although DeWitt is still stinging after the second-place performance.
"I don't know how much street credibility you get when you lose," he said. "It's hard to tell the kids to do something and then go out and do something bonehead in your own match. But they know anything to help them when they go out I'll do.
"We're like a big extended family. I wrestle with them every day. And they know the stories of when I won and when I lost."
If nothing else the experience allows the family members to relate better to one another.
"Getting out on the mat again and competing made me re-approach what the kids go through," DeWitt said. "I mean, I know what the kids go through because I've been there. But it just reminded me of the dedication they put in."
That dedication paid off on Saturday and should pay off when the high school season comes around.
"What I saw Saturday tells me that we have the opportunity to be pretty good next year," DeWitt said. "The kids are looking forward to it. I know I am."
But for now, the wrestling season is on a hiatus.
"We had a pool party last night to wrap it up," DeWitt said. "I told them now is the time to focus on their fall sports.
Shut it off and go play football, or soccer or whatever. And I'll see you when you're done winning state championships."