Falling in 'love'
Students' initiative bringing tennis to
EHS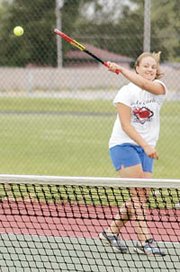 There is a renaissance underway in the Eudora Cardinal athletic program.
Scott Keltner, a Eudora math teacher, has been commissioned by his own students to help develop a school tennis team.
A few Cardinal athletes caught wind of Keltner's tennis past -- a two-year walk-on at Emporia State.
The curious group wasn't involved in spring sports and was, quite frankly, a little bored. So they harassed Keltner until he finally agreed to play with them.
And thus the Eudora Tennis Club was born.
"I played with them a couple of times, and they started chatting to their friends about it," Keltner said. "Then they started asking me when practice was, and their friends started asking me how to join the tennis team.
"I tried to tell them we didn't have a tennis team."
At least not yet.
The window of opportunity has already closed for spring of 2005. So, the focus falls on the 2006 season.
For the time being the club will be relegated to an intramural format.
"I told the kids it's up to them to take it to the School Board," Keltner said. "I didn't want to walk in and tell them I have some kids that want to form a tennis team. I want it to come from the students."
At the forefront of the instigating group is 2004 graduate Jesse Montgomery.
"Jesse told me he was walking through the Cardinal wall of fame one day and noticed that Eudora had a couple of all-state tennis players in 1975 and 1976," Keltner said. "And he said starting the tennis team is like waking a sleeping giant."
Montgomery's compatriots include brother Kirby Montgomery, Michael Mersmann and Kyle Reynolds. The group refers to themselves as the "forefathers."
"When they heard I played at Emporia State, they said I was destined to start a tennis team," Keltner said. "Finally I had an open schedule, and we got together to do something about it."
The club was christened with a tournament May 22. Eighteen students forming nine doubles teams signed up for the inaugural round robin competition.
"I'd like to consider the tournament a training ground for new members," Kirby Montgomery said.
Some senior participants were lost to graduation responsibilities, and yet the tourney kept on trucking. There were enough willing spectators to sub-in and sustain the competition.
In the end, 25 students had lent their talents to the cause.
"Jesse and I are getting the ball rolling for next year, Mersmann said.
The question is whether or not the dream fades away when seniors like Montgomery and Mersmann are gone. Keltner doesn't think so.
"We had a couple of meetings toward the end of the year, and probably more than half of those in attendance were freshmen and sophomores," he said. "And at the Relay for Life event I saw some seventh- and eighth-graders playing.
"I don't think this sport is dying over the next couple of years."
If the group can transform this club into a school sponsored sport they'll have a coach.
"I'll take it on," Keltner said. "If the offer's on the table I would jump at it."
Keltner has experience coaching with the Cardinal volleyball program. He also serves as a Eudora Middle School basketball coach. But the opportunity to coach tennis is especially appealing.
"(Tennis) is something the kids don't always know too much about so I have a captive audience," Keltner said. "And a lot of it is the enthusiasm and excitement the kids bring towards it."
Where does Keltner see the premature program in five years?
"I won't go as far as to say we're going to win the state championship, but I expect a full roster out to fill varsity and junior varsity squads," he said. "And I think we could be very competitive in our league."
Currently eight Frontier League schools field tennis teams. No specific plans have been scheduled for the off-season -- although once again the students have taken the lead.
"Some kids call the house to see if I'll play with them but mostly they call to see if they can borrow a racquet," Keltner said. "Even my fiancee wants lessons. But I told her she's down the waiting list."
Keltner said Montgomery liked to joke about the sport -- and relationships.
"Jesse's always saying, 'Never date a tennis player, because love means 'nothing' to him,'" he said.