The scientific method
Eudora students chart new territory with science fair entries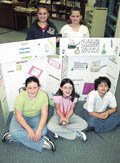 A group of Eudora West Elementary School fourth-graders took their science fair projects in their own hands -- literally.
The team of Madeline Dickerson, Lacey Gabriel and Mindy Keeney worked up a lather for the project that recently won them a best experimental award at the Douglas County science fair.
"It was nasty," Gabriel said.
The students ran a trial to see which method of hand-washing was more effective, exploring options like baby wipes and commercial hand sanitizers. Although they expected the latter to be most effective, the students found the old-fashioned hot-water-and-soap method worked best. And that was a good thing, Gabriel said, considering the characteristics of hand sanitzer.
"It smells horrible," she said.
The students tested their methods on their own hands.
"We just built a house, so we had debris everywhere," Dickerson said. "We rubbed dirty trash on our hands."
The idea for the project came to Dickerson after playing outside one day, she said.
"We put hand sanitizer on, and it didn't take the stains off," she said. "We just had lots of dirt."
Fellow West students Cecilia Lehmann and Victoria Lehmann garnered a judge's special in the science fair, an award that essentially amounted to a fifth-place win for their category in fifth-grade. Cecilia, a fifth-grader, worked with her fourth-grade sister, Victoria, on a project titled "infection detection."
The girls tried to see if antibiotics or mold worked best at combatting germs. Cecilia Lehmann said the pair hadn't gotten conclusive results yet.
"I grew a germ, and I put mold on it to see if it would stop the germ from growing," she said.
To "grow a germ," Cecilia Lehmann said she swabbed the inside of her mouth. She said inspiration for the project struck in an everyday situation.
"I was going by the pharmacy, and I just thought of it," she said.
At the middle school level, Whitney Box took inspiration from her winning project on germs last year. For this year's first-place best project in health and in microorganisms, Eudora Middle School eighth-grader Box tested the effectiveness of disinfecting products.
Fellow middle school student Kyle Snow won judge's special in the sixth-grade level for a project that measured video gamers' heartrates. Snow and a handful of friends measured their heartrates while playing Need for Speed Underground and a hand-held version of Legend of Zelda: A Link to the Past.
"It goes up," Snow said of players' heartrates. "Not too much, but a little."
For Kalen Wight's best use of photography award, the sixth-grader made homemade plastics from milk and vinegar. Wright said part of the project required heating up milk and letting it sit for awhile.
"It was really disgusting," she said.