Talent runs deep
Bullpen lined up with replacements for graduates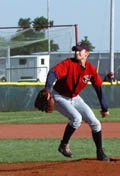 Some people rely on Punxsutawney Phil seeing his shadow to determine the length of winter. But the fact is winter ends the same time every year ---- when baseball teams take the field.
As for the Eudora Cardinals' baseball team, spring began March 1 at the onset of practice.
Eudora is coming off one of the greatest seasons in school history. The Cardinals 14-5 record was a tremendous improvement on 2002's 11-11 mark.
It was an especially remarkable accomplishment for a program under the direction of a new head coach.
But to match last year's success this season would be equally remarkable considering the blow graduation dealt the team's roster.
The Cardinals will strive to replace superstar shortstop Andrew Pyle, first baseman/pitcher Heath Fanning, ace Seth Johnson, and bullpen bulldogs Tyler Wingebach and Tyler Jackson.
"They were a talented bunch of kids," Kinney said. "It was impressive for a program that's never really been anything to do what we did last year."
Pyle's loss is the most outwardly notable. He was selected as the team's most valuable player while leading the team in 10 offensive categories. But the numbers don't even scratch the surface.
"(Pyle's) going to be sorely missed," Kinney said. "Not so much as an athlete but as a leader. It is hard to find kids at this age that are great leaders like that."
But a deep talent pool remains to audition for the unenviable role of Pyle's replacement -- sophomores Mark Abel, Kyle Brouhard and Miles Cleveland; juniors Eric Reese (Lawrence-Free State transfer) and Paul Smith; and senior Monte Steffey.
Abel, a speedster, hit .394 with the junior varsity team last season. Abel's junior varsity teammates Brouhard and Cleveland hit .308 and .206, respectively.
Smith hit .250 with five RBIs for the varsity team.The search for Pyle's replacement will likely generate the most buzz around the community, but Pyle may not be the hardest Cardinal to replace.
Eudora lost four of its six pitchers from last year's squad. Those four combined to pitch more than 67 of the Cardinals 117 innings played.
Returning talent such as Evinger (4-2, 1.56) and Gabriel (2-1, 3.20) help soften the transition, but the new foursome is greatly unproven.
Kaup and Smith are projected for the third and fourth slots in the starting rotation.
Brouhard and Reese are anticipated to emerge as the Cards' stoppers in the bullpen.
And of note, eight of the 15 freshmen out for baseball this year are pitchers.
Many of the names from last season are changing, but the goals remain.
"We still want 15 wins, and we still want to win the league," Kinney said. "One thing is for sure -- we're going to play the game and play the game hard. If they don't, they're not going to play at all.
"I expect a well-disciplined team with good character."
Steffey hit a sensational .463 with 11 RBIs and seven doubles last season, earning him the varsity's most improved player honor.
The other three infield positions, however, appear to have fewer suitors.
Senior Chris Gabriel and sophomore Chad Griffin are entangled in a battle for first base.
Neither is likely to step in right away and erase the memory of Fanning.
Gabriel had only one at-bat last season, and Griffin accumulated just four hits in 27 at bats between the junior varsity and varsity teams.
Catching duties will once again be split between senior Troy Van Horn and junior Cole Massey.
Van Horn was the team's defensive MVP behind the plate and a major weapon at the plate, batting .415 with three homeruns and 19 RBIs.
Sophomore Rodney Spillman (.241 JV average) will catch the leftovers.
Third base appears inked for senior incumbent Aaron Westerhouse. Last year's co-newcomer of the year also appears to be the frontrunner to replace some of the leadership left by Pyle.
"(Westerhouse) is probably the one who's stood out so far," Kinney said. "He's hitting the ball pretty exceptionally right now. He's a kid that gives a 110 percent, and he takes a chewing like no other.
"I don't see a reason that he doesn't light up the league."
Westerhouse hit .441 with one homer and 16 RBIs.
The outfield will be outfitted by one of six suitors -- sophomores Luke Abel and Mark Abel, and juniors Rod Evinger, Joe Kaup and Smith, and senior Van Horn.
Luke Abel, another speedster, hit .326 while scoring a team-high 16 runs for the JV team.
Evinger, the other co-newcomer of the year, hit just .231 for the varsity team. But he did earn a .517 on base percentage.
Kaup hit .312 in 16 at bats for the junior varsity.
More like this story