Cards walk off with regional top seed
Massey's extra-inning home run extends team's winning streak to five games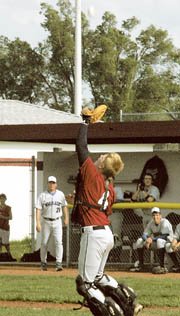 It wasn't the start the Eudora Cardinals baseball team was looking for. The team entered the final week of the regular season in contention for both a league championship and a top seed in the regional playoffs.
But Eudora's 10-0 run-rule loss to Louisburg Thursday devastated the team's dreams of a league title before the final push even began.
The Cards regrouped, however, for five-straight wins, clinching the top seed in their regional.
Eudora gained a level of revenge on Louisburg in the night's second game, licking the Wildcats 11-2.
The Cardinals returned home Saturday for a makeup date with Paola. Eudora orchestrated a pair of come-from-behind wins, 5-4 and 14-10.
Eudora met Gardner-Edgerton with a chance to clinch the highly coveted regional top seed Tuesday. The Cards needed a doubleheader sweep of the Blazers to do so.
They opened with an emotional 3-2 victory -- rallying from two down in the fourth.
The nightcap introduced Eudora to extra-inning play for the first time this season. Eudora junior Cole Massey then introduced the Blazers to the concept of the walk-off homerun.
The Cardinal catcher led off the eighth with a towering shot to left field.
"Rarely do I say this, but I was pretty darn happy," head coach Dirk Kinney said. "That was just pretty good baseball. The only thing I worry about is the production at the bottom of the order. But Cole (Massey) picked them up."
Why shouldn't Kinney be happy? Eudora's five-game winning streak improved its record to a gaudy 16-4, securing the region's top spot in the process.
And what a way to do it. Massey's blast had the perfect trajectory to ride the wind as well as wring every ounce of drama out of the moment.
"I was up there just trying to get a base hit up the middle," Massey said. "I wasn't trying to do everything at once, but it happened and I couldn't be more happy about it."
Neither could his coach or his teammates, Nor the nice crowd in attendance for senior night and the regular season finale.
"Coming out on senior night with our two biggest wins of the season is awesome," senior Aaron Westerhouse said. "And to have all the people here was real nice and a lot of fun.
"I don't think we've ever beaten Gardner. It's so awesome to go out on a sweep of them and end our regular season like that."
The performance of junior starter Rod Evinger may get lost in the memory of the Massey mash. Evinger was on the mound for the first time since his virtual meltdown at Louisburg. The lefty allowed six walks in just two-and-a-third in Louisburg. Evinger's wildness led to Kinney's first-ever run-rule defeat.
"Rod just wasn't on at all," Kinney said. "That's the first time in three years he hasn't been on."
Game-two starter, junior Joe Kaup, also had an interesting night in the mound. Kaup amazingly pitched a complete game one-hitter -- allowing only two runs despite walking eight Wildcat batters.
Evinger returned to form Tuesday, throwing a complete game during eight innings, allowing only one run and four hits. He struck out six while walking four.
Until the Gardner games, the Paola match-up was the proverbial "biggest game of the year."
The Cardinals opened with a scrappy 5-4 victory. Eudora's triumph came on the strength of senior starter Chris Gabriel's arm and senior slugger Troy Van Horn's bat.
Gabriel pitched a solid complete game. Van Horn made his mark with a three-run, bases-loaded double in the fifth inning that erased a two-run deficit.
"We were lucky we got a win," Kinney said. "Chris (Gabriel) pitched his tail off, and that's about it."
Junior Paul Smith toed the mound for the nightcap. He was rocked early and often allowing 10 runs during seven innings.
But the Cardinal offense exploded, overwhelming the Panthers with 14 runs of their own. Eudora scored in each inning -- at least two runs in all but one.
"Paul (Smith) was getting lit up," Kinney said. "But he made the adjustments he had to make to get it done.And we just hit the crap out of it and played some pretty sound baseball that second game. It was a fun one to coach."
For the day, Van Horn was 3-for-8 with two runs scored, four RBIs and two doubles. Westerhouse was 2-for-6 with four runs and four RBIs. Sophomore Chad Griffin was 4-for-5 with three runs, three RBIs and two triples.
Kinney said he hoped that kind of offense will carry over into the postseason -- which begins with Tonganoxie next week.
"We have good momentum going into the playoffs," Kinney said. "Tonganoxie's a good team too. We're not playing chop liver. So, we'll have to just come out and play our game."