Girls punch ticket to Wichita
Girls team, four boys earn state meet berth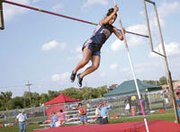 The Eudora Cardinals track and field team has had a very successful season already. But the team hadn't exactly been building a tremendous amount of momentum into Friday's regional meet in Tonganoxie.
They've got some momentum now.
Eudora put forth one of its best efforts of the year in Tonganoxie -- certainly one of the best efforts of the season's second half.
The Cardinal girls placed second only to regionally dominant Baldwin.
Eudora finished with 72 points to Baldwin's 146. Fort Scott and Iola followed with 58 points and 43 points, respectively.
Kansas City-Sumner (41 points), Lansing (35), Tonganoxie (32.75) and Osawatomie (29.75) rounded out the girls field.
The boys showed a tremendous improvement over their recent performances, finishing fourth in a highly contested field.
Fort Scott ran away with the regional title, scoring 103 points.
De Soto (52 points), Iola (48) and Eudora (46) fought fiercely for the coveted second- and third-place finishes.
Osawatomie and Sumner tied with 41 points, and Lansing and Tongie scored 35 and 34, respectively.
"We really came to compete," head coach Phil Katzenmeier said. "Our student athletes do a great job of representing Eudora High School. The coaching staff is very pleased with our results, and a lot of hard work over the past three months has really paid off.
"This was a great meet."
Individually the Cardinals were especially successful.
The top-four placers in each event qualify for the state meet Friday and Saturday at Wichita State University's Cessna Stadium in Wichita.
Eight Cardinal girls and four boys qualified to compete in 16 different events.
By virtue of their second-place finish the entire girls team earned a ticket to Wichita.
"No disappointments here," Katzenmeier said. "Great team efforts and outstanding finishes by both teams.
"We are looking forward to the state meet."
Eudora claimed five regional championships.
Freshman Brittney Graff alone took home two golds. She won the 1,600 meter with a time of five minutes, 37 seconds and the 3,200 with a time of 12:19.0.
Eudora is sending a "his and hers" pole-vaulting team to state. Senior Anna Fernandez won gold, reaching a height of 9-6. Senior Bryan Schiller tied a school record, winning gold at 13-0.
Junior Brandan Helm won the shot put title with a throw of 48-1.5.
Helm also qualified with a bronze in the discus, throwing 140-2.
Graff's male counterpart --senior Tighe Van Anne -- surprisingly didn't claim a title. But he did qualify with silvers in both distance events. Van Anne ran a 4:35.6 in the 1,600 and a 10:22.4 in the 3,200.
Sophomore sprinter Megan Ballock also qualified in two events. She placed second in the 400, running a time of 62.0 and fourth in the 200, running a 27.1.
Graff and Ballock joined sophomores Regan Sisson and Cara Seats in the 3,200-meter relay. The foursome finished in second place with a time of 10:31.5.
And of note -- although not qualifying -- Sisson, Seats, freshman Erin Kracl and Ballock ran a season-best 4:26.9 in the 1,600 relay.
Kracl did, however, qualify in two field events. She placed third in the high jump reaching a season best height of 5-0 and fourth in the long jump reaching a season best distance of 15-8.5.
Sophomore Carrie Lister probably expected to fair better than one qualification, but the talented thrower advanced to state with a third-place finish in the shot put (36-9).
Junior Brendan Jackson placed fourth in the javelin at 156-3.
Junior Julie White took third in the triple jump, reaching 32-4.5.
Regionals results appear on Page 8B.