Cards nab Coffeyville's steam
Eudora made regional champion in 35-8 grinding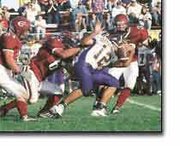 The Eudora football team defeated the Coffeyville Golden Tornado 35-8 on Saturday, earning the Cardinals a 4A regional title.
With the victory, the Cards (8-3) advance to a sectional match-up with Topeka-Hayden (11-0) Friday night at Laws Field.
Eudora's experience Saturday was a far cry from its first-round effort. The Cardinals were forced to score touchdowns on each of their final two possessions against Anderson County to keep their season alive.
"I was very pleased with our effort and our energy," coach Gregg Webb said. "It was a tough day. We didn't have school on Thursday or Friday, and then we played a game on a Saturday afternoon. It was a weird deal, and I was iffy on how they'd handle the situation.
"But we came out with a great scheme defensively. It worked out pretty much to perfection. Sometimes you just guess right.
"Overall I was pleased with our energy on defense and the play of our offensive line and our ability to run the ball. With (Coffeyville's) size and athleticism, I was worried about our ability to run the ball. But we're getting a little better and a little healthier."
The Golden Tornado was lost in a whirlwind of turnovers. Coffeyville (7-4) coughed-up a paralyzing eight fumbles. The Tornado team suffered the loss of its starting center in its first-round win over Chanute. Eudora attacked the exposed weakness, and Coffeyville's senior quarterback Jayrd McCullough paid the price. McCullough fumbled the ball seven times in the debacle.
"(Turnovers) always help, of course," Webb said. "We tried to put a lot of pressure on the young man. That center really wanted to get out of there.
"I've always said that fumbles and turnovers are bad enough, but just the wasted plays are tough to overcome.
"They had a week to get used to (the change at center), but they were having some problems. And that was fine with me."
Coffeyville's opening possession forecasted the fate of the Golden Tornado. Eudora senior defensive end Joe Faulk sacked McCullough on the second snap of the game. The hit jarred the ball loose, resulting in the first of eight fumbles. Three plays later, the Cardinals "slash," junior Miles Cleveland, delivered a 20-yard touchdown run.
Senior Paul Smith and junior tailback Luke Abel each added first-quarter touchdowns.
By halftime, Abel had carried the Cards to an insurmountable 28-0 lead. Abel had amassed 122 yards rushing by the break.
Meanwhile, the Coffeyville offense generated a mere 77 yards at the half. Eudora countered with 256.
Eudora senior fullback Brendan Jackson added a 28-yard touchdown run in the third quarter, finishing the Cardinal scoring. Jackson finished the game with 99 yards on 11 carries.
The Cards playoff victory earns them a shot at Topeka-Hayden, the state's top-ranked team in some polls. A traditional state power, Hayden won the state 4A championship in 1998.
Hayden advanced by virtue of a 27-14 victory over Tonganoxie (8-2).
Heading into the state playoffs, Hayden was winning its games by an average of 43-11.
Eudora has posted similar numbers in its victories. The Cards are winning by an average of 40-9 in eight wins this season. Only one team has lost by less than three touchdowns this season.
However, in three losses the Cardinals are averaging 10 points a game while giving up 21.
"We will have to play with tremendous energy, and execution will be huge," Webb said. "(Hayden) brings great size, averaging 270-pounds across their line. And they have a D-I tight end. They're very solid at every spot. We will have to play with great pride and emotion to stay in the game.
"They're the No. 1 team in the state for a reason. We have to match their intensity. I don't think we'll play scared or timid, but sometimes emotions get you out of your game plan."
Eudora and Hayden represent two of the state's eight remaining 4A teams. Five of those elite eight are undefeated.
The winner of the Eudora-Hayden game will play one of those undefeated teams -- either the state's second-ranked team, Ft. Scott (11-0), or the third-ranked team, Holton (11-0).
"This program we've tried to establish here has gotten some credibility," Webb said. "Over the past three years we've been to sectional twice and sub-state once. When you're to the point that you're running into Ft. Scott and Hayden, then you're putting yourself in elite company.
"I hope the kids and the community can take some pride in that. Hopefully the young men in the elementary school and the middle school are taking pride in that and want to be a part of making this team a perennial contender."