Friendly rivalry
Pals since elementary school,
EHS

athletes Josh Barr and Chris Durkin take competition personally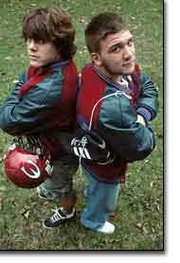 Since the sixth grade, Eudora High School seniors Chris Durkin and Josh Barr have been competitive.
"I remember one time we were racing go-carts, and I was going to pass him and I gave a little bit of a nudge," Durkin said. "His cart went off the track and into a drainage ditch. He wasn't hurt, but that's just how we are."
"We're always pulling pranks and trying to get the best of each other," added Barr.
This competitiveness has translated during the years into their mutual love of sports. The two friends have played together on various teams since they began wrestling together as sixth-graders at Eudora West Elementary School. And even when they had just gotten to know each other, sports was something they both had a feeling about.
"When it came to wrestling and later football, it was never something that we really talked about doing," Barr said. "We knew it was going to happen. We just did it."
And this year they begin what could be their last go as teammates when the Eudora High School wrestling season opens.
The two friends, who have already completed the football season, know this year is different.
"We're a little more relaxed and calm this year," said Durkin. "But there's a bigger sense of urgency to get things done."
As high school athletes, the pair have achieved much in four years at Eudora. Barr placed sixth in wrestling at state in 2003, and Durkin came within one match of qualifying for the tournament. Together they made the varsity football team as sophomores.
Each of them love the sports they play, but they both have different passions when it comes to those sports.
"Chris excels at football," Barr said, "and I excel at wrestling."
The teammates recognize that in each other. Eudora High School wrestling coach Bill DeWitt can attest to it as well.
"They want nothing but success for each other," DeWitt said.
The head coach recalled one instance where they really were helping one another succeed.
"Last year they were both at the same weight and competing for the same spot," he said. "But they didn't want to compete with one another. So Chris decided to go up a weight class and let Josh have the spot. Josh ended up going to state that year."
DeWitt had little doubt about the two seniors he had watched for three years.
"They're kids who have gone through the commitments of sports at this level. And I have no doubt that they will succeed at the next level."
And that next level could be college. The pair is contemplating attending college at Pittsburg State University or another school in the Pittsburg area. The Gorillas came off an undefeated football season, winning a huge game at Arrowhead Stadium. Durkin is looking for that kind of program.
"They have a helluva football team down there," he said. "I hope that there is a place for me."
As for Barr, the college experience may not be in the exact same place as his friend.
"Pitt State doesn't have a wrestling team," Barr said. "Neosho County Community College is nearby, and they have an excellent team."
The two friends have found that there are other reasons to head to southeast Kansas.
"We have friends down there and some relatives," Durkin said. "Pittsburg has a kind of family thing going on down there for us."
"I plan on buying some real estate down there," Barr said. "My Dad buys real estate. There's a lot of money in that."
If the two decide to head south, they will leave behind a legacy of sorts. Two friends who helped each other become the best they could be at what they did, whether it was football, wrestling or go-carts.