Topeka team too tough
Heavyweight Hayden topples Eudora in 42-6 win
For the second-consecutive season, the Eudora Cardinals football team ended its season with a lopsided playoff loss at home. A year ago Eudora was manhandled 43-18 by archrival Baldwin in bi-district play. And Friday night, Topeka-Hayden -- the state's top-ranked 4A team -- toppled the Cardinals 42-6 in a sectional match-up at Laws Field.
It took the Wildcats little time to set the tone for the ballgame. Hayden took the opening kickoff 66 yards in 3 minutes, 43 seconds and capped it off with an 11-yard touchdown run.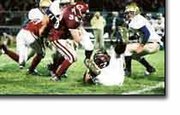 Eudora coughed up the ball on the subsequent possession. Junior tailback Luke Abel was stripped of the football on the Cards' second play from scrimmage. Three minutes later Hayden was back in the end zone after a short quarterback sneak from Wildcat senior signal caller Chris Dieker.
"Our situation has been playmaking," coach Gregg Webb said. "When it's counted most and when we really needed to step up and make a play, it just seems like we can't do it.
"What I mean by that is the first drive. We force a fourth down, we know what the play is, and Luke (Abel) slips. And then we come down and when we have to make a play on fourth down, their size really steps up, and we don't get a push off the ball."
Each side exchanged punts on following possessions.
Eudora put together its best drive of the game on its third opportunity, marching 77 yards in more than six minutes. But the promising drive stalled after a failed fourth-down conversion inside the Hayden 10-yard line.
"I'm thinking that if we can stick this thing in the end zone, it's 14-7 and we're right in the ballgame," Webb said. "But we don't convert. And then they march right down the field with less than a minute to go. We get a horrible match-up, and he lets the guy run right by him, and they make a great throw and catch, and then it's 21-0. That really put a dagger into us."
The Wildcats' scoring drive covered 91 yards in just less than six minutes. Dieker capped off the drive with a 46-yard bomb to senior Scott Schmidtlein.
Eudora compounded that Hayden drive with a fumble on its next possession.
"So we go from being in the game at 14-7 to being completely out of it 28-0," Webb said. "And then our kids played for pride, because we're not scoring 28 points against that defense.
"This game is very emotional and very momentum driven, and if you get your dauber down -- especially against a good team -- they will really jump on you."
Hayden's effectiveness through the air surprised Eudora.
"They made some great plays," Webb said. "When we schemed them, we just had to beg them to throw it. And heck, at the half they're eight-for-10, making every throw and every catch. I had seen them on film, and they had not thrown it that well.
"For the most part we had people on them, and you'd think they might miss one receiver. I mean, he was just really throwing it on the money."
In actuality, Dieker split time in the first half with back-up junior James Schneider. Dieker in the first half was five-for-five for 96 yards. Schneider was three-for-five for 48 yards. Dieker had an apparent bout with strep throat earlier in the week.
Beyond the Hayden passing attack, the biggest
concern for Eudora was its own offensive production. The Cardinals' offense lives and dies with its running game. And against the Wildcats, they died. Eudora managed 106 yards on 39 carries -- 2.7 yards per carry. Luke Abel, the team's 1,000-yard rusher, could muster 39 yards on 20 carries.
Despite Eudora's rushing troubles, Webb was weary of abandoning the running game in favor of a passing attack.
"If we try to throw it against them, all that does -- unless you're good at it -- is prolong the game and give their offense more possessions and keeps our defense out there. We wanted to shorten the game as much as we possibly could, maybe run some clock off and keep the game as close as we could, as long as we could and maybe have them panic a little bit.
"That was our chance at 14-7. If we were going to start chucking the ball all over the place, they would have beat us 5,000 to nothing."
Eudora's junior quarterback Kyle Brouhard finished four-for-nine for 128 yards and a touchdown.
Webb kept the game in perspective, noting his 8-3 team was facing an 11-0 squad.
"It was a monumental challenge for us to come out and beat them," he said. "But if you're going to turn the ball over, and they play an awful good game -- well, 42-6 later, that's what happens."
More like this story