Sharpening their claws
Eudora shuts out Heights 48-0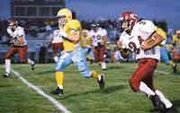 The Eudora Cardinals football program completed its third shutout in five games Friday night. Eudora (4-1) crushed Central Heights 48-0 behind an overwhelming 34-point second quarter.
Junior quarterback Kyle Brouhard and junior tailback Luke Abel (16-159) each tallied two touchdowns in the quarter.
Despite the lopsided score, Central Heights is no pushover. They hung with De Soto 3-0 for almost the entire first half and led Cardinal-killing Osawatomie 12-8 heading into the fourth quarter.
"Going into the game I was very nervous about Central Heights," coach Gregg Webb said. "I saw them on film a couple times and saw that they had a real talented athletic quarterback. He throws a great ball. They had some big guys up front and spread the field well. I worried all week how we would scheme them to put pressure on him."
That worry was for not -- and pressure they got.
"Going into the year, I thought that if we had all our pieces we would have a pretty good defense," Webb said. "And we've been awful good with the potential to be very, very good.
"The kids really got after the quarterback and made him make some tough throws."
Since their stunning 38-17 loss at Osawatomie, the Cards are 3-0 and outscoring opponents 150-12. Throw in a 21-0 opening day victory over Wellsville and Eudora has outscored its opponents 171-12 in four victories.
The Osawatomie game is all that stands in the way of a near-perfect start."Against Osawatomie we weren't healthy and we just weren't very good," Webb said. "There was a lot of uncertainty in a lot of positions, but giving up 38 points is ridiculous. Now we're getting the secondary some experience, getting some kids back, and the younger kids filling in are getting some experience.
"The leadership of kids like Chris Durkin, Josh Barr, Joe Faulk and Brendan Jackson really stood out."
Another standout in the Cards turnaround is junior right tackle Joel Morrison -- the man stepping in for injured senior cornerstone Dustin Deathe.
"He's a junior, so he should be able to step in a little bit, but he's also injured," Webb said. "But he never stops competing, goes about his business and gives it everything he has. He's stepped in and done a nice job for us."
The big pieces are starting to fall into place. Now it's time to fine tune.
"Our offense is really starting to come around a bit now too," Webb said. "I'm feeling real comfortable about both sides of the ball -- if we stay healthy.
"Now we have to worry about the little things if we're going to be a great team. Like special teams, our punt coverage and getting extra points blocked is ridiculous."
The Central Heights game helped propel Eudora to the top of the Lawrence Journal-World's area top-five. Eudora takes over the top spot from De Soto (4-1), which Anderson County upset 10-7 in overtime. The Cardinals and the Wildcats tangle Friday in De Soto. For the first time, these two neighboring schools will meet as Frontier League rivals.
But there's more at stake for the Wildcats than beating a rival.
"When De Soto and Mill Valley split, Mill Valley took all their kids and coaches, and Eudora beat them badly," Webb said. "They have closed the gap every year since. Eudora's been pretty good for a few years now, and they put themselves against us as the standard. If they beat us, it puts them back into some prominence and shows the town, the kids and the fans that they're back."
That unexpected blemish on the Wildcats' record concerns the Cardinals' coach.
"It was going to be a huge game for us with them being 5-0, but now I don't know how the kids are going to react," Webb said. "I feel our kids having a let-down now, and their kids are probably getting really fired up.
"It's a good enough rivalry, though, that I don't think that will happen."
Webb hoped that De Soto exudes more hesitation than redemption.
"There almost has to be a little shake in their confidence," he said. "Hopefully we can get after them early and keep them questioning everything.
"They've come a long way. How far is the question. Hopefully they haven't caught us yet."
More like this story