Delayed diplomacy
WWII

vet, would-be Eudora High School graduate getting honorary diploma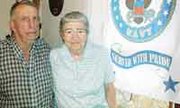 While his classmates were learning algebra and grammar at Eudora High School, Millard Murray was keeping decks clean on ships in the North Atlantic and South Pacific. After his sophomore year, then-17-year-old Murray enlisted with the U.S. Navy for a four-year hitch during World War II.
"I got tired of milking cows," Murray said of his decision to sign on with the Navy.
Milking 25 cows by hand kept the teenager from playing football or basketball at Eudora, but when he joined the service Murray left behind singing with the boys' glee club and learning woodworking at Eudora High School. He also left behind a sweetheart, Leola Bond, whom he married during his time in the Navy.
"We kept letters going back and forth pretty good," Leola Murray said.
When Millard had three days leave, Leola Murray said, it would take him two days to travel back and forth, leaving him only one day at home.
After earning the rank of boatmate first class during his hitch, Murray returned to northeast Kansas to farm and work as a carpenter. Woodworking is still in his blood: He's working on building a deck for his home near Lone Star.
"If I live to be 200, I might get it done," Murray said jokingly.
Not having graduated with the rest of the class of 1944, Murray said lacking a high school diploma wasn't something to which he gave a lot of thought.
"It wasn't a big deal," he said. "I could always find a job."
However, for some of the young soldiers who left high school to serve in World War II, it is a big deal, said Max Rife of Lawrence. Rife works with the American Legion to get honorary diplomas for people like Murray.
"It's amazing how much these old boys who didn't graduate from high school regret they didn't," Rife said.
The American Legion will present Murray with an honorary Eudora High School diploma during a ceremony at 7 p.m. Thursday at American Legion No. 14, 3408 W. Sixth St. in Lawrence. Rife said he was working on getting a cap and gown for Murray and having area group Junkyard Jazz play "Pomp and Circumstance."
During the Clinton administration, Rife said, a program started that allowed anyone who dropped out of high school to join the service in World War II to receive a diploma if they wanted one.
Once organizers knew someone was interested, Rife said it was an easy process to get a diploma for a veteran. Rife said interested veterans could contact the American Legion in Lawrence at 842-3415 between 9 a.m. and noon weekdays.
"It's too bad we can't get the word out more," Rife said. "It would be nice to get some more guys, because they really do appreciate it."