The Cards strike back
Eudora comes off loss with 49-13 win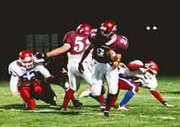 The Eudora Cardinals football team needed to regroup following an emotionally draining 12-7 loss to upstart rival De Soto the previous week. They did -- and then some.
Eudora (5-2) capped off a week of homecoming festivities by smothering Santa Fe Trail 49-13 with a steady dose of its traditional smashmouth brand of ball.
The Cards amassed 570 yards of total offense during the opening of district play. They have now scored more than 48 points in four of their last five games.
Eudora's defense was equally dominating, holding the visitors to 87 yards of total offense.
"You're always worried about your team's focus with homecoming week, and I was really concerned after we fumbled our opening drive away," head coach Gregg Webb said. "But after that, we settled down and had a really nice first half and made some big plays.
"You're always excited when you can score 42 points in a half, so I was pleased with our effort after we kind of got down after that first fumble."
Eudora's balance on both offense and defense especially spoke to Webb.
"We had over 500 yards of offense, which is really good for us," Webb said. "We were very efficient at throwing the ball. We were three out of four. The one we didn't get, we dropped.
"Our offensive line played well, and Kyle threw the ball well," Webb said of junior quarterback Brouhard. "He threw for 164 yards. We kind of distributed it out pretty well.
"Defensively, we played well in the first half and gave up two first downs the whole game. Chris Durkin had a great game at middle linebacker."
The Cardinals surrendered just seven yards on the ground defensively and just 80 through the air.
Three Cardinals out-gained the the entire Santa Fe team.
The leader of that Eudora trio was fullback Brendan Jackson. The Cardinal senior carried the ball 12 times for 134 yards and three rushing touchdowns.
Starting tailback, junior Luke Abel, was highly effective as well. Abel rushed the ball 13 times for 94 yards and a score.
And Brouhard was three-for-four for 145 yards and a touchdown through the air.
Brouhard's top target, senior wide receiver Joe Kaup, accounted for more than half of those yards on an 80-yard touchdown reception. Junior tight end Rodney Spillman (1-37) and senior tight end Jeremie Bryant (1-28) accounted for Brouhard's remaining two successful connections.
The De Soto loss dropped Eudora out of first place in the area top-five prep rankings but Friday's win over Santa Fe Trail moved the Cards back up to No. 4.
De Soto (6-1) maintains the top spot. Red-hot Baldwin (6-1) moves up one spot, claiming No. 2. Tonganoxie (6-1) also moves up a spot nabbing third. Mill Valley (5-2) dropped from second to fifth following its narrow loss to Olathe Northwest.
Eudora hits the road again for Friday night's date at Spring Hill.
"Spring Hill is not a terrible football team," Webb said. "They have a lot to play for. This is their chance to go. It's a huge game for both teams. It looks like the winner of this game would almost have to be one of the teams that goes on into the playoffs.
Webb said the key is to get Spring Hill down early.
" They don't have a winning record, but they have been in every game. They haven't been blown out in any game."
Eudora is also on the road.
"It's always tough to travel in this league. You've really got to focus and concentrate. We're also out of school that day. But if the kids understand the importance of the game, we should be very focused."
The Spring Hill game precedes Eudora's annual clash with nemesis Baldwin, which won the large school division league title.
Baldwin stung Spring Hill 20-6 last Friday, claiming its third consecutive win.
Klay Garrison and Austin Inzer combined to rush for 231 of Baldwin's 288 yards of total offense. Mirroring the Eudora/Santa Fe Trail game, Baldwin held Spring Hill to 65 total yards and three turnovers.
"Baldwin is 6-1 right now, and they have a bunch of good kids," Webb said.