Season greeting a 21-0 win
Cardinals fly by Eagles in opener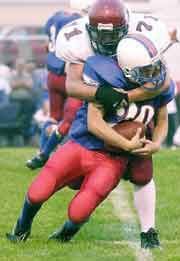 The Eudora Cardinals football team hit the field Friday for the season opener at Wellsville. A sensational defensive effort produced a one-sided 21-0 triumph.
"Twenty-one to 0 is a good way to start no matter how you look at it," coach Gregg Webb said. "We went on the road and faced a rival that I think thought they could beat us. That's a good deal.
"Our kids are 1-0 and feeling pretty good."
The Cardinal program is generating a reputation of defensive dominance. Eudora's defense was phenomenal last year en route to its fourth-straight district title. The Cards yielded more than 20 points just two times.
In the other eight games, Eudora's opponents averaged just more than 10 points per game, including two shutouts.
"We kind of expect our defense to play well," Webb said. "As long as we don't turn the ball over and give the opponents a short field, traveling 80 yards against our defense is going to be tough.
"Our kids kind of dominated, and that gives our kids confidence."
Despite losing its entire defensive secondary from a year ago, the Cardinals haven't skipped a beat -- yet, anyway.
"Going into the game I was really nervous about the defensive backs," Webb said. "They're all new.
"They were a little better than I thought they'd be. They started out a little shaky, but as the game went on, for the most part, they played well for us. And they need to. Our front seven are all returns."
Unfortunately, the offense has yet to regain its 2003 form.
"I was once again disappointed with our offensive output," Webb said. "The way we ran our plays was not as crisp or smooth as it should have been.
"We blocked at the point of attack pretty well, but we never did get to the next level like we should have."
Nevertheless, opportunities were plentiful if not productive.
"We had multiple opportunities in the first half to break the game open," Webb said. "We spent a lot of time inside their 50-yard line.
"Forcing seven turnovers and only scoring 21 points is unacceptable. You have to take advantage of momentum opportunities and stick it in the end zone."
Eudora did strike first early in the first quarter. Cardinal quarterback, junior Kyle Brouhard, hit senior wide receiver Joe Kaup on a 28-yard touchdown pass down the right sideline.
Long touchdown passes have been a scarcity for Webb's teams in the past. But playing to the strengths of his new signal caller, the passing game may find a new focus.
Compared to his predecessor, Brouhard is regarded as less of a running threat. But as was evident by Friday's performance, his arm may rival any in recent Cardinal history.
Eudora's defense took care of the rest. The Cards grounded the Eagles' rushing attack, yielding only 22 yards on 32 carries.
Wellsville's seven turnovers surpassed its first down total.
Senior fullback Brendan Jackson stretched the Cardinal lead to 14-0 with a three-yard touchdown run in the third quarter.
The final Eudora tally was far less conventional.
In a rare move, Webb elected to attempt a 30-yard field goal late in the third. New Cardinal kicker William Bock, a veteran of the soccer program, made the attempt. However, the kick fell a foot short.
Cramping along the Cardinal defensive line forced Bock into a dual role at defensive end. And Bock redeemed himself in quick fashion a minute later forcing and then recovering an Eagle fumble in the end zone for a touchdown.
"He's only about 160 to 165 pounds, but he's awfully quick," Webb said. "He's a first-year senior who is a nice addition to the team. Those kids are rare -- to put a helmet on a kid and have an understanding of the game. He plays hard, and he's a great kid."
The defensive score was the game's last. It wasn't exactly an offensive exhibition of might. The two teams' combined for just more than 200 yards of total offense.
Eudora hits the road again for the second time in eight days, traveling Friday to Osawatomie. The Trojans are coming off a 35-22 loss at the hands of the highly touted De Soto Wildcats.
"Osawatomie is one of those teams people looked at and said they're going to be tough," Webb said. "They've got a bunch of kids back and a lot of size. They just turned it over too many times against De Soto to win. With two minutes left in the third the game was tied 14-14."
More like this story