A bumpy ride
Hines brothers keep rodeo in the family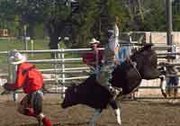 One of the biggest lessons in rodeo Colby Hines has learned from his older brother, Caleb, is a simple but valuable one -- don't fall off.
First-grader Colby is following in his brother's cowboy-boot footsteps by competing in calves and mutton busting, a training ground for young rodeo athletes.
At Sunday's rodeo in Ottawa put on by the Christian Youth Rodeo Association, Colby tested his chops at mutton busting while Caleb, a seventh-grader, competed in steer riding. Soon Caleb will move on to riding bulls, but for now he puts his emphasis on his favored steers.
Caleb said he and his brother honed their skills outside the ring at the Homestead Rodeo School in Richmond.
"Sometimes I watch moves (of professionals) and stuff," Caleb said. "I'm trying to work on the bucking barrel."
Caleb said he and his brother came from a rodeo family. Their grandfather, Carl Hines, was on hand last weekend to photograph the rodeo athletes with Circle CJ Photography.
"I wanted in to it," Caleb said of rodeo. "I liked to ride. It looked like fun."
More like this story