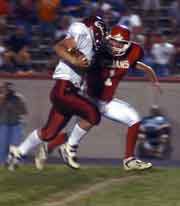 The Eudora Cardinals football team suffered one of its worst losses in the Gregg Webb-era Friday night in Osawatomie. The Trojans (1-1) trounced the Cardinals (1-1) 38-17.
Eudora's vaunted defensive unit was shredded by the mobility of Osawatomie's senior quarterback Zach Madden and the punishing rushing of senior running back Daniel Rose.
The Trojans were coming off a tough 35-22 loss at De Soto and were looking to avenge last season's 26-16 loss to Eudora.
"They just willed themselves to not be 0-2," coach Gregg Webb said. "They refocused and got the job done and made plays that we didn't. We just didn't have kids step up and make the plays that we needed in order to be successful."
Osawatomie out-gained Eudora 350-204. The Trojans amassed an incredible 212 yards rushing against the Cardinals' veteran front seven.
"Our defense is supposed to be so good, and really I thought they would be," Webb said. "We just gave up way too many third-and-longs. Their third down conversion percentage was ridiculous.
"We need to understand down and distance."
In a 21-point loss, there is plenty of blame to go around.
"The way we played and the way we lost, no one is exempt from criticism," Webb said. "We didn't play with emotion, and we didn't play with intellect, and that's disappointing. This senior group should understand the importance of every week. And that turns back to me. I've got to get them ready. I haven't found the right buttons to push yet.
"They're playing so tight right now with expectations as high as they are. They're playing not to lose, and that's what happened Friday night. We need to get back to having fun."
Osawatomie was clearly having fun Friday. The Trojans struck first on Madden's one-yard quarterback keeper in the first quarter. Madden plunged-in on third-and-goal from the one. A successful two-point conversion earned Osawatomie a strong 8-0 start.
Eudora closed the gap to 8-3 midway through the second quarter with William Bock's short field goal.
Both teams exchanged short possessions before the Trojans once again cracked the goal line.
Rose broke free from the pack with a 40-yard sprint to the end zone. The big back was caught at the goal line and the ball pried loose. But in a show of things to come, Trojan senior Greg Welch was there to smother the ball and secure the Osawatomie score.
Eudora trailed at the half 14-3. The Cards were out-gained 149-48 after the first two quarters of play.
Eudora was successful on its first opportunity of the third quarter.
The Cardinals used good field position, marching 55 yards in less than three minutes on their first touchdown of the night, which came on a seven-yard Brendan Jackson run.
Following Bock's extra point, Eudora's deficit sat at 14-10.
That was the closest the Cards would get. Osawatomie reeled-off 16 unanswered points taking a commanding 30-10 lead with just more than five minutes to play.
Eudora and Osawatomie traded late touchdown passes, establishing the final 38-17 score.
The lopsided loss is a clear blow to the Cards' confidence.
"I think there's a lot of emotion that goes into things when you're not used to playing that bad, especially when you play a team you think you'll beat," Webb said. "In that context, it hurt a lot.
"The kids had visions of going undefeated, and then you get slapped around. That plays on a lot of emotions. You go from thinking you're pretty good to questioning everything."
Webb said his boys would respond positively.
"I think they'll bounce back," he said. "A lot of team's lose games on the way to championships. The staff's trying to tell them that it doesn't have to be like this. We can fix these things and still be a pretty good football team; as good as we thought we would be.
"I think that loss will stay in the back of their minds, but it can be erased if we correct those things and see the improvements from those corrections. And that's what we're hoping to do Friday."
Eudora's bounce-back opportunity comes in its home opener Friday night against Prairie View.
"It's important that we play well, no doubt about it," Webb said. "But we don't have to go out and win by 100 to get our confidence back. Coming off a loss like that, we'll just take a win right now.
That win won't be as easy as some think, according to Webb anyway.
"Prairie View's not a horrible football team," he said. "They've got some big kids, they're athletic,s and they can run. But you can see on film that they have some of the same fundamental problems we have."