Buffalos stomped
Cardinals stampede through Prairie View defense 54-0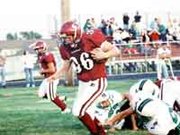 The Eudora Cardinals football team (2-1) got healthy in its home-opener Friday night against Prairie View (0-3). Eudora battered the Buffalos 54-0.
The Cards produced a powerful response to the devastating 38-17 loss to Osawatomie the previous week.
It was Eudora's second shutout in three games, matching its total from a year ago.
"We kind of needed that -- just for our kids' psyche and their confidence," head coach Gregg Webb said. "What was good to see was how we responded after the last game. I told them this is a real critical time in our year, and we can tank it in or rally around it. And they decided to play a little bit. "There were still some nerves out there in the beginning, but they just took it out on (Prairie View)."
The Cards seemed to disguise those nerves well. They established their dominance early with an impressive running game. Eudora took the game's opening possession 65 yards in less than three minutes. Senior fullback Brendan Jackson's five-yard touchdown run capped the drive.
Junior tailback Luke Abel returned from the ankle injury that sidelined him against Osawatomie. The diminutive speedster began the game with a tone-setting 14-yard run.
"When he's in there, he makes us better," Webb said. "It would be really nice to see him on good wheels, because he can really run. We just saw a glimpse of it tonight.
"He needs to play for us. He can't be taking shots. His durability is the question. But his muscles are so tight, and those are the great athletes."
Junior Miles Cleveland took the second handoff 16 yards.
It took the Cards seven carries at an average of more than nine yards per carry to take the early 7-0 lead.
"We really ran the ball a ton better," Webb said. "When we can run 'iso,' we're a whole lot better. We can really just load it up and play smashmouth football for a little bit and get our kids into it.
"We've still got a long ways to go if we're going to compete with the better teams in this league though."
Eudora scored on each of its first three possessions, establishing an insurmountable 21-0 lead early in the contest.
The Cards' second score came on junior quarterback Kyle Brouhard's 11-yard rollout connection to senior tight end Jeremie Bryant.
Brouhard connected with Cleveland on a 16-yard wide-receiver screen on the Cards' third score.
Eudora failed to score on its fourth possession. Senior place kicker William Bock came up short and wide left on a field goal attempt from the Buffalo 24-yard line.
The Cards came up short again on possession number five. Jackson fumbled at the Buffalo 15 following junior Mark Abel's 51-yard run.
On possession number eight, however, Eudora was back on the board. Brouhard delivered his third touchdown pass of the half with an 11-yard strike to senior wide receiver Joe Kaup.
Eudora led 28-0 at the half.
Picking up right where they left off, the Cards took their first opportunity of the second half 56 yards, ending in Jackson's second touchdown of the game on a one-yard run. He got his third about four minutes later on a seven-yard run.
Eudora was back on the board 13 seconds later when junior defensive back James Mills intercepted a Tucker Brown delivery returning it 27-yards for the score.
The Cards doubled their lead in less than six minutes to 48-0.
"We kind of changed our defense to find a way to get (Mills) on the field because he's a good athlete and seems to have a nose for the ball," Webb said. "He doesn't always have the right technique, but somehow gets the job done. That was nice to see."
Mills was back in the end zone on the Cardinals' subsequent possession. With Mark Abel as signal caller and other Eudora reserves, Mills ripped off a 15-yard touchdown run. It was the final tally in the Cards' 54-0 romp.
Eudora scored on all but two of its first nine possessions -- the missed field goal and the fumble.
The only two real negatives that emerged from the Prairie View game were two blocked extra points and the loss of senior tackle Dustin Deathe, who left the game with a knee injury.
"(That) hurts us, but like I've always said about good programs, you ought to be able to replace one of the links," Webb said. "We're not going to be as good without him, but we ought to have some kid that can step in there and not be terrible."
The resurgent Cardinals play Anderson County at 7 p.m. Friday night at Laws Field.
"They've been down, but they've got potential," Webb said. "They've always got a couple of athletes that are potential touchdown-breakers."
¢
Eudora High School's football game Friday against Anderson County is the 6Sports High School Game of the Week and will be televised. It will played at 10:30 p.m. Friday and replayed at 11 a.m. Saturday on Sunflower Broadband Channel 6. Sunflower and The Eudora News are both owned by The World Company.