What a drag
Local racers take to the track in division finals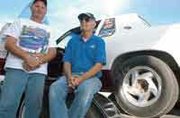 Roger Broers' time on the clock is spent working on cars, but in his spare time there's still one automobile he can't wait to get his hands on -- a 1988 Oldsmobile Cutlass.
"Your brain works all day long on long winter days," he said. "You're always kicking around something you want to add or change."
The white vehicle, checkered with racing stickers, is what takes Broers to the finish line and pits him against the times of other racers.
Most recently, Broers and fellow Eudoran Kevin Miller tested their times at the NHRA division finals at Heartland Park in Topeka. Both were eliminated in the first rounds of the drag races, but the Sept. 18 and 19 event drew the top 10 racers from a division spanning a swatch of the United States from Minnesota to Colorado and as far north as Canada. Moreover, winners qualified for national competition in Pomona, Calif.
"You don't have any easy competition," said Miller, a five-time veteran of the event.
Broers, who picked up drag racing about four years ago, said he was considered the new kid on the block, so qualifying for the recent division finals was a chance to prove himself.
"I feel privileged to be in there," Broers said. "These fellas have been racing for years."
Miller, who races a 1975 Chevrolet Nova, is one of those type of fellas. Having grown up in a racing family, he picked up the sport in 1987.
Broers got a bit of a later start. Although he said he raced as a teenager, pursuing the hobby further never panned out until recently. Broers, who ended up being a mechanic and operates Broers Automotive, said he worked on an engine for his son, who never really picked up the sport.
"I said I must do it now, or I'm never going to do it," he said.
Broers found a kindred spirit in fellow drag racer Miller. Although the two men compete in different classes -- Broers in the sportsman or trophy class and Miller in the pro ET class -- Miller said their friendship was a benefit at the track, where they could borrow the occasional tool or garner assistance from each another.
Such cooperation among racers isn't uncommon, Broers said, relating a story of how competitors at Heartland Park pulled together parts and labor to help rebuild a car that caught on fire.
"You hardly find an enemy up there," Broers said.
But such brotherhood ends at the starting line.
"There are no 'gimmes' on the starting line," Broers said. "It's all gone."
But the finish line is another story.
"On the other side, you're friends again," Miller said.
Miller and Broers' different racing classes basically amount to a difference in the tinkering they've done on their automobiles. Whereas Broers' Cutlass is more of a basic street car, Miller's Nova has more gadgets added to it.
With racing, the devil is in the details. The process of priming a car for a race is difficult to explain to the uninitiated, Miller and Broers said, but it look a lot of frittering with the automobile.
"There's a lot more to this than just cut the light and go," Broers said.
Which brings up a drag racing paradox.
"Unless you've been there, it's hard to understand how the slower car can win," Broers said.
Miller said in his racing class he could try to clock the best time possible, but Broers said he could be penalized if he goes faster than was allowed in his class.
"The main thing is try to cut a real darn good light and run as close to the dial as you can," Miller said.
Eudorans will have a chance to see Broers' and Miller's cars up close Saturday at Sonic Drive-In during a car show and charity car hop benefiting Eudora EMS.
Broers said he hoped publicity would get more Eudorans -- especially young people -- involved in drag racing. With races costing as little as $10 to $25, he pointed out it could be an affordable pastime for teenagers.
"I think it would be neat to see more people get out there and instead of putting their foot to the floor on the street, do it on the track," Broers said. "And you get a time slip."
Broers invited teens or anyone else wanting more information about racing to contact him at 542-5152 or Miller at 542-1938. Heartland Park is accessible on the Web at www.hpt.com.
Even though neither local drag racer made it to Pomona this year, Broers said he had his eye on Brainerd, Minn., the site of next season's nationals.
"I've already looked at it on the map -- I'm going," he said.