Versatility pays off
Cards trump
AC

Bulldogs 48-12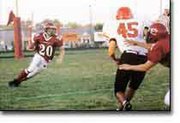 This isn't your father's Eudora Cardinal football team. The days of four yards in a cloud of dust may be gone. In its stead is a high-powered versatile offense unlike any in recent memory.
That neo-Cardinal squad (3-1) overwhelmed the Anderson County Bulldogs (2-2) Friday night at Laws Field 48-12.
"This was the first time that our kids really executed a game plan as good as they could since the Fort Scott game," head coach Gregg Webb said. "We were really physical tonight. I was pleasantly surprised.
"Defensively, we really got after them."
After Eudora's shocking loss at Osawatomie, the Cardinals have piggy-backed two wins by a combined score of 102-12.
A week ago, the Cards crushed a winless Prairie View squad. But the Bulldogs came in with an identical 2-1 record and a couple of legitimate gamebreakers.
"(Anderson County) was not a terrible football team," Webb said. "We didn't beat a bad football team 48-12, which makes me happy.
"They really made us execute and drive the ball down the field. I thought we executed well offensively.
"We made plays when we needed to."
The key to the Cards' playmaking capabilities is junior quarterback Kyle Brouhard. The first-year starter has quieted concerns about his running ability and fulfilled the claims of his passing prowess.
"Going into the year there was no doubt who my quarterback was going to be," Webb said. "He has the savvy, and he has the knack. He's very coachable, he throws it well, he's got good feet, he's got quick feet, and he makes people miss.
"I think the only thing he's lacking is just the breakaway speed. But if you're going to miss something as a quarterback, I guess that might as well be it."
Brouhard was especially effective in his deception Friday night. He routinely connected on counter trick opportunities with senior running back Paul Smith.
A consistent and multi-dimensional rushing attack kept the defense honest and the play effective.
"He runs play-action so well," Webb said. "He's watched enough television where I don't need to teach him every detail. He made just one bad throw tonight.
"And our offensive line is coming around too now, and that's really nice when you've got both things that you can do. We haven't had that."
The line is the soul of a Webb offense.
"The most pleasant thing really is that I can explain things and make adjustments with our offensive line in the middle of a game and they know what I'm talking about," Webb said. "Because in previous years we'd try to change things in the middle of a game and they'd just look at me. But this team is starting to catch on, which is nice to see because our front six guys are all new to their positions.
"We've come a long way in 4 to 5 weeks."
Perhaps the biggest problem with the offense is finding a way to use each of its developing weapons.
"There are some bad things -- how do I use them all?" Webb said. "I had a kid once run the ball 430 times for 3,382 yards and 50 touchdowns. State records. That was easy. But now there are a lot of weapons, and I'm trying to learn how to use them all as effectively as I can. And tonight I think we did a pretty good job."
The Cardinal running game includes a speedy tailback in junior Luke Abel, who delivered a dynamite 25-yard touchdown run in the third quarter. And there's a powerful downhill runner in senior fullback Brendan Jackson, who added two more touchdowns to his season total Friday.
And then there are versatile tweeners like juniors Miles Cleveland, James Mills and senior Smith.
Junior Mark Abel wears three hats as back-up quarterback, running back and wide receiver. He showed a flash leading the second- string offense Friday with a 26-yard touchdown run.
Ironically the best weapon the rushing game possesses may be the Cards' top wide receiver, senior Joe Kaup. The deadly wideout has routinely drawn double-teams.
"It's really good to have a standout wide receiver, who on any given series or play, you can look at that match-up, try to manipulate the formation and get him in a one-on-one situation where you think you ought to be able to take advantage of it," Webb said.
"We had such talent at wide receiver last year that he didn't get on the field very much. But he had a great summer. He completely dedicated himself to getting in the weight room, put on some weight, got way stronger and faster. It's almost like a dream when I look out there and they're double-teaming him. All the years I've been coaching I've never had that."
Eudora has one more tune-up Friday at Central Heights before heading to its Oct. 8 showdown at De Soto.