Fire destroys Church Street home
A fire Thursday evening destroyed a two-story wood frame home in Eudora, leaving a mother and son homeless.
The residents of the rental home at 926 Church St., Judi Regnier and her son Levi were not home at the time of the fire. Eudora Fire Department firefighters arrived at the scene at about 7:20 p.m. after it was reported by a neighbor from across the street. The fire was under control by about 9 p.m.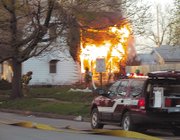 Firefighters arriving on the scene found flames engulfing a rear wing and spreading to the rest of the house. The initial blaze was reduced in about 10 minutes but fires continued to break out for more than an hour as firefighters searched for possible victims.
Eudora's deputy fire chief Mike Underwood said damage to the home was extensive.
"It's on all floors of the structure, including the attic and inside," Underwood said. He said the cause was not yet known and that an investigation was under way.
The Regniers had lived in the home for 2-1/2 years.
Jane Blocher, executive director of the Douglas County chapter of the American Red Cross, said the residents would receive assistance from her organization.
(Nate Reed contributed to this story).