Blaze destroys home
Residence second in month to be devastated by flames
A mother and son were left homeless last week after a fire destroyed their Church Street home.
Neither Judi Regnier nor her son Levi was home when a neighbor reported the fire at about 7:20 p.m. Thursday.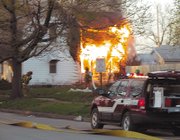 Emergency crews responded from the Eudora city and township fire departments, Eudora EMS and the Wakarusa Township Fire Department. Two medic units from Lawrence were also on the scene prepared for any injuries.
"When we arrived on scene it was a fully engulfed structure," said Eudora Deputy Fire Chief Mike Underwood.
The blaze was under control within a half-hour of the Eudora Fire Department's response, but emergency crews stayed on the scene until almost 11 p.m.
The cause of the fire appeared to have been electrical, and Underwood said it was apparent it started on the back porch before spreading to the interior of the home. Underwood said there was no suspicion of arson.
There were no injuries, but the house and most of the items inside were a total loss.
"What the fire didn't get, the water did," Judi Regnier said.
Regnier's brother-in-law, Charlie Watts, owns the rental house. Relatives said the house was insured for what it was worth, but Regnier said she had no insurance for furniture and other possessions within the house.
Family members were at the house Friday to help with the cleanup.
"This is all damaged," said Regnier's niece, Melissa Pittman, pointing to items that were salvaged from inside the house, including photo albums, kitchen furniture, books and clothing.
She said there was no way the house could be repaired.
"We'll have to tear it down," she said.
Regnier said she and her son would probably find a new place to live in Lawrence, where they both work, but were staying with her sister in the meantime.
"If it wasn't for my family I wouldn't make it through it," she said.
Regnier said the American Red Cross had also supplied assistance since the fire.
Regnier said she lost a lot of sentimental items in the house, but was happy to have recovered her mother's cookbook and cookie jar. She said she was thankful that no one was hurt.
"I'm just glad that we're all okay," she said. "We'll be okay."
How to help
The Regniers had no insurance for their possessions and most of what they had was destroyed by the fire and the water that was used to extinguish it.
Anyone with donations of furniture or other items that might be useful for the Regniers can call Mary Ann Watts at 542-3240. Family members said the Regniers were especially in need of beds.
The Thursday fire was the second house fire in less than two weeks to destroy a Eudora home.
The rural Eudora home of Leslie and Kim Kindred was declared a total loss after an April 5 fire, which started in the kitchen. The American Red Cross also supplied the Kindred family with food, clothing and temporary shelter.
A fire fund has been set up at Kaw Valley Bank, 739 Main St., to help the Kindred family.