Cards hold own against big-school competition
The temperature was 90 degrees, the first official day of summer only days away and there were people everywhere.
With all of these elements combined, it was obvious what was going on. No, not a day at the swimming pool, it was football.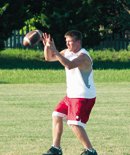 The annual seven-on-seven drills began Monday for the Eudora Cardinals football team and for Eudora High School coach Gregg Webb, it couldn't have come soon enough.
"It's never too early to start thinking about football," Webb said. "I'm always thinking about it, so as far as I'm concerned it's never too early."
The first of four Monday night drill sessions took place at the fields of St. Thomas Aquinas high school in Johnson County. Family members and plain old football enthusiasts, who were dying for their first taste of the upcoming season, attended the sessions.
"It's a great event," Webb said. "It's great for the players who come and do this to see all of these people here with a genuine interest in how their team is going to do."
Many of the players were coming off a successful camp at Central Missouri State University over the weekend. And as the first of two scrimmages began, it seemed some were still a bit rusty.
"Some of the guys are still a little unsure about what's going on," Webb said. "The purpose of these drills is to get a little bit of familiarity going with them so that they know what we're trying to do."
The drills began with a scrimmage against St. Thomas Aquinas and the Cardinal offensive unit seemed ready to score the first point of the practice.
However, the Saint defensive squad shut down senior Kyle Brouhard and his receivers.
Although some of Brouhard's targets, such as next-season senior Rodney Spillman, made nice grabs over the middle for robust yardage, none of the Cardinals found the end zone.
"We had a couple of plays on offense not go as planned," Webb said. "But were just getting started."
The Cardinal defensive unit saw seniors-to-be Miles Cleveland and Mark Abel buzz around the field, seemingly involved in every play.
"For being a little bit raw defensively, we did some things really well," Webb said.
The game ended in a 0-0 tie.
In the second game, Eudora defeated Olathe Northwest 3-2.
The Cardinals will need to perform well this season as the defense lost eight players to graduation and will see nine new defensive starters.
"Our defensive staff is going to have its work cut out for it," Webb said. "But an event like this is something that will give us an idea of what we need to do."
One of the best things about the summer league is that it's time to start thinking about what to do because even if the temperature rises above 100, most everyone is ready for some football.