Cardinal call back
Eudora's athletic trainer left for a larger job, but happily returned when asked
During Eudora's football blowout of the Spring Hill Broncos, Cardinal athletic trainer Jessica Gracia heard a joke from one of the many voices on the sideline.
Apparently someone thought she looked rather bored standing on the sidelines.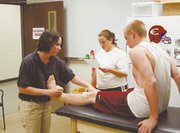 No one was laughing only moments later when senior running back Luke Abel lay on the field with a broken collarbone, Gracia rushing to his side.
Gracia alerted the emergency technicians that stood ready at Laws Field and any misconception of boredom was gone.
"I would much rather sit and watch the game," she said. "I never wait for something to happen."
That injury, along with many others, is what the Cardinal trainer would like to avoid, but in her line of work those things can be unavoidable.
Bodies are in constant motion, with high-speed action and high-speed stops, and muscles and bones are in constant jeopardy.
With such different styles of play, the sports bring different injuries to each of the players and are something the trainer must be prepared for.
"Football has more breaks, obviously, because of the high impact," Gracia said. "In basketball it's kind of about the stretching and straining. But there are a lot of bloody noses and upper body injuries in wrestling as well."
Responding to these situations is something that Gracia has prepared for since the late 1990s.
The road to Gracia's line of work started early. She has five brothers, all active in athletics since her childhood.
In that environment her own interest in sports festered over the years until it collided with an interest in medicine. Suddenly a career in sports medicine seemed the logical path.
Gracia headed to Fort Hays State University where she received a bachelor's degree in athletic training in 2002. After receiving her certification, she moved on to work as a graduate assistant for Kansas University.
As glamorous as a job at the Big 12 university might seem, it wasn't exactly what Gracia expected.
"I didn't enjoy that experience very much," she said. "There was too much politics going on around there."
After leaving the university spotlight, Gracia came aboard at Eudora and found the atmosphere at the high school level to be much different and just what she wanted.
"The high school level is much better," she said. "There is a real sense of family here and the coaches have more trust in my abilities."
Gracia served as the trainer for a year before leaving for the University of Saint Mary in Leavenworth. But the ties to the Cardinals wouldn't go away.
Eudora's administration enjoyed her work so much, they asked her to return.
She was more than happy to oblige.
"They called and asked me to come back because they liked what I did," she said. "That makes you feel good."
Along with getting to know and respect the faculty and administration, Gracia has developed relationships with the students she tends to.
When Abel sustained the injury on the football field, Gracia felt it too.
"When I went out there I had to hold back some tears," she said. "It wasn't just because of the pain that he was in, it was that he knew that his season was over. That kind of thing is tough to watch."
With all of the bonds and respect that have been established at Eudora, there is still opportunities Garcia would like to pursue in the future.
The trainer looks forward to one day rising back to the college level, just not quite to the top.
"I would like to go to the Division II level and do this job," she said. "It's similar to this as far as the family atmosphere and there are some high-caliber athletes."
But for now Gracia hopes to do what she loves to do on the sidelines of every game, which is just watch.
"When I get to stand around and watch the games is when I'm really enjoying this job," she said.