Cardinals girls remain golden
While the runners on the Eudora Cardinals' girls track team have staked an early claim as a group of competitors who will be tough to beat as the season goes on, some of the Cardinals in the field made a similar claim on Friday.
Senior Carrie Lister dominated in the discus and shot put events, while freshman Allison Hoover took first in the pole vault at the 13-team Baldwin Invitational Friday in Wellsville.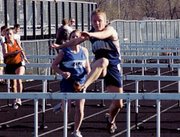 Both performances helped the girls team to its second-consecutive meet championship of the new season.
Lister took home the first-place medal in the discus with a resounding throw of 113 feet, 3 inches. The throw was nearly 15 feet better than the second-place finisher and was good for a new school record.
"Carrie definitely made a statement at Wellsville," Eudora coach Phil Katzenmeier said. "We have a lot of confidence in her and she goes out and really does well."
The record discus performance was followed up by another medal in the shot put as Lister took the competition with a final throw of 36-10.
Hoover took home the gold medal in the pole vault with a height of 9-0. The freshman nearly took home a school record in the event, but fell short in three attempts.
"It's really encouraging to Allison, and the other freshmen come in and compete well," Katzenmeier said.
As well as the girls field team did on Friday, the runners kept up the pace as well.
Sophomore Emily Ballock left the Wellsville field with four gold medals on the day, including two in a sweep of the hurdles events.
The 1600-meter relay team of Ballock, Lauren Colman, Brittney Graff and Megan Ballock took home the gold with a time of 4 minutes, 12.45 seconds, while the 400 relay squad matched the effort.
The all-freshman team of Alisha Wingebach, Tianna Dunnaway, Rachel Pyle and Kendal Abel took first with a final time of 52.35.
The Cardinal boys finished the day in an eighth-place tie with Santa Fe Trail, Perry and Lansing with 22 points.
Seniors Nolan Smith and James Mills placed for the Cardinals in the pole vault event, while Cody Burns and Paul Chaffin did the same on the track.
Smith took home a second-place medal with a final attempt of 11-0. Mills' height of 9-0 was good for sixth.
Burns was fourth in the 3,200 with a time of 10:50.63. It was the second-straight top-four finish by the junior. Chaffin finished sixth in the 300 hurdles with a time of 43.96.
The Cardinals travel to Clay Center on Friday for the Clay Center Invitational.
Girls team standings:

1. Eudora 114; 2. De Soto 81; 3. Baldwin 80; 4. Wellsville 60; 5. Santa Fe Trail 59; 6. Anderson County 53; 7. Jefferson West 43; 8. Pittsburg 35; 9. St. James Academy 30; 10. Perry 23.5; 11. Lansing 19.5; 12. Bonner Springs 11; 13. Basehor-Linwood 2.

Eudora placers:
100: 4. Rachel Pyle, 13.34.
200: 1. Emily Ballock, 26.95; 5. Rachel Pyle, 27.94
400: 7. Alisha Wingebach, 66.86
800: 3. Megan Ballock, 2:35.12
1,600: 2. Brittney Graff, 5:24.40
High hurdles: 1. Emily Ballock, 16.47
300 hurdles: 1. Emily Ballock, 46.44
400 relay: 1. Alisha Wingebach, Kendal Abel, Tianna Dunnaway, Rachel Pyle, 52.35
1,600 relay: 1. Emily Ballock, Lauren Colman, Brittney Graff, Megan Ballock, 4:12.45
3,200 relay: 2. Brittney Graff, 2: 25.9, Lauren Colman 2:42.0, Bre Miller 2:44.7, Megan Ballock, 2:34.0 -- 10:26.76
Shot put: 1. Carrie Lister, 36-10.75
Discus: 1. Carrie Lister, 113-3
Javelin: 5. Carrie Lister, 105-9
Long jump: 7. Alisha Wingebach, 13-9
Pole vault: 1. Allison Hoover, 9-0
Boys team standings:
1. Baldwin 145; 2. Pittsburg 127; 3. Bonner Springs 84.5; 4. Wellsville 50; 5. De Soto 47;
6. Anderson County 31.5; 7. Jefferson West 25; 8. Eudora 22; 8. Santa Fe Trail 22; 8. Perry 22; 8. Lansing 22.
Eudora placers:
Pole vault: 2. Nolan Smith, 11-0; 6. James Mills, 9-0
200: 5. Nolan Smith, 24.10
400: 5. Nolan Smith, 54.07
300 hurdles: 6. Paul Chaffin, 43.96
3,200: 4. Cody Burns, 10:50.63.