Church community prepares "A Night to Remember"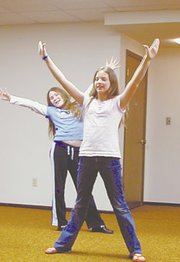 With four days left until the show, the Eudora Youth Community Ministry had barely raised a quarter of its goal of $1,250 for the Eudora Ministerial Alliance's Food Pantry.
But when the music started at practice Tuesday night in the basement of St. Paul United Church of Christ, the mood wasn't somber, frustrated or rushed ---- it was funky.
Youngsters and adults alike practiced tunes that spanned the decades in preparation for "A Night to Remember," the annual variety show the participants hope will knock Eudora's collective socks off.
Dee Ann Howell helped organize the show and worked with the participants during the last 10 weeks.
"They work very hard for the show," Howell said.
Although the practice was low-key and relaxed, the 7 p.m. showing Saturday in the Eudora Middle School auditorium will be fast-paced and filled with participants of all ages.
"It's not just a teen or kid thing," said Cathy Box, another organizer of this year's event.
Several grown-up acts will be part of this year's show, including the return of Mike Kelso.
During past performances, Kelso had played the role of one of the Blues Brothers with his friend Darin Howell.
But because of Kelso's illness last year, the dynamic duo of blues was silenced.
With renewed health this year, the black suit and shades are scheduled to return, Box said.
In addition to the return of the "Saturday Night Live" icons, there will be at least one number for the dads involved in the show and another for the moms.
"It's fun seeing everyone get together for a good cause," Box said.
Eleven-year-old Valerie Pringle participated last year and said she appreciated the cause.
"I'm very glad we're doing it. We are helping people that don't have enough money to buy food," Pringle said. "I'm very grateful to help the people."
Pringle also has a side-reason to enjoy the show.
"I like to show myself off to the crowd and make friends with people," Pringle said.
Tickets will be $5 at the door and free for children under
More like this story