When he arrived in the United States, Soeren Quittkat got his first taste of the country amid the towering skyline of Chicago. It was a place with a similar feel and the same big city bustle as his native Hamburg, Germany.
A few days later, the foreign exchange student found himself in a far quieter segment of the American landscape: small-town USA.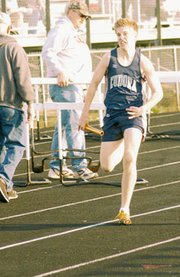 "It is a dream of everyone in Europe to come to America at least once," the Eudora High School junior said. "Now that I am here, I notice one of the things about a small town in America is that everyone knows everyone. In my city of Hamburg, I don't know anybody."
For Quittkat (pronounced Kvit-kaat), the experience of being in the smaller part of America has also trickled over into sports.
The 16-year-old, who is hosted by Matt and Bonnie Daigh, Eudora, hails from a part of the world where football (soccer to Americans) dominates. Quittkat has played the sport since he was 5, and one may have naturally assumed he would gravitate toward the soccer program offered at Eudora High School.
However, there were voices which turned him in other directions. The new people of Eudora encouraged him to look elsewhere for a sports interest, as well as a few thoughts from far-away Germany.
"I talked to my parents, and I told them Eudora had a soccer program," Quittkat said. "But they said since I may never come back that I should try something else. So I did."
That encouragement led Quittkat to lean away from his country's most popular sport and go out for the Cardinal cross country team. It was a decision he looks back on with fondness.
"I wanted to improve my running," Quittkat said. "So I tried out for the cross country team, and found I enjoyed it tremendously."
The experience of being part of the cross country team led Quittkat to go out for basketball over the winter. However he quickly found that maybe he wasn't cut out for every sport Eudora had to offer.
"I tried out for basketball, but found I didn't have any skills," Quittkat said. "I also became ill for about a week and missed much practice."
Quittkat decided he couldn't play the sport, but he did everything he could to help out. He became the manager, responsible for filming the games and the practices. The experience was a good one, he said, as he was part of a successful team. But he felt as though he wanted to do a little more.
That opportunity came with spring meetings for the track team.
"I didn't do anything over the winter, so I felt as though I needed to do something," Quittkat said. "When it came time to go out for a sport, I wanted to run again."
A few weeks ago, Quittkat took part in Eudora's first track meet of the season at Wellsville, where he was part of a third-place 3,200-meter relay team. In doing so, he discovered another facet of small-town American life he didn't count on.
"It was a great event," Quittkat said. "It was just another great thing about the country. There were so many people there to watch and so many other students. In Germany, we do not have sports in school, so we do not have such events while we are there."
The experience of all of the sports Quittkat has participated in over the past year has been a great one. He believes sports here in Eudora have given him a feeling even the great sport of European soccer never gave him.
"The sports here at Eudora have made me feel like a professional," Quittkat said. "I practice every day. The coaches take things very seriously and we work out all of the time.
In Germany, I practice two times a week and play once a week and always in front of no one."
Quittkat will finish his stay in America in early June and will return to his home country. He would like to stay for his senior year and participate in sports all over again, but for now there are things greater than his love for America and its many activities, which draw him back home.
"My parents told me they missed me and wanted me to come home," Quittkat said. "But they also said that when I am back for awhile we would talk about coming back to America. I hope to be back soon."