Voices of intent
The Eudora High School forensics team uses public speaking for friendship, competition and self-improvement
Eudora High School senior Larissa Maranell would have no trouble telling you why she thinks Barbie ruined the fashion world.
Likewise, sophomore Morgyn Carey would be quick to say it would take 400 years for a Styrofoam cup to biodegrade in the earth's soil. Not to mention the fact if you took all the Styrofoam used in the United States you would be able to circle the world 436 times.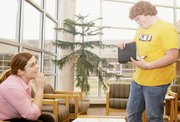 All the while, surrounding them, students would be gesturing wildly or spouting speeches at the walls.
There, in between the snippets of obscure Monty Python sketches, observers would realize on a Friday evening or Saturday morning they were surrounded by a high school forensics tournament.
"My original oration is probably my strongest piece because that's the one that's most prepared," Carey said. "I'm very passionate about my topic."
Although, there are times members of the Eudora High School forensics team might need to convince their classmates they aren't preparing for their own version of CSI, the group has used the assorted oral competitions to find fun, friends and recognition.
"You meet tons of people," sponsor Krista Beckley said.
The relationships started through forensics competitions could carry through to college and beyond, Beckley said.
Team members participate in events, which include contests ranging from original orations to "Whose Line Is It Anyway"-style improvisations to finely-honed dramatic scenes.
"Forensics is so self-driven; it's up to the students to be getting what they need done, done," Beckley said.
The group meets weekly, but also schedules individual appointments with Beckley.
The team already has one student heading to the highest level of forensics competition.
Maranell earned a trip to a national competition performing an emotion-tinged poem and literature combination.
She read a prose piece called "A Letter from the Fringe," by Joan Bauer after seeing a graduated classmate perform it last year.
"I saw her perform and a lot of the story connected with me in such a way that I thought I could do it and maybe even better," Maranell said.
Maranell follows "A Letter from the Fringe" with selections from "Stop Pretending," a collection of poems by Sonia Sones.
In the poem, Maranell echoes the voice of a poet who, as a teen, had to deal with a sister in a mental hospital.
During practice, Maranell stood straight and her voice rose and fell with the tension of the piece.
When in competition, the poem has moved her to cry, she said.
"It makes it all the more real," Maranell said.
When not honing either her prose or poetry, Maranell serves as a leader to the group.
"More than anything, I want to leave this team knowing it's going to continue to exist and exist successfully in my wake," Maranell said.