Senior hopes skin condition becomes educational beacon for Eudora
Margaret Grosdidier never considered herself a sun worshiper.
She said she would go out into her garden or take a stroll during a summer's day, but she wouldn't go overboard.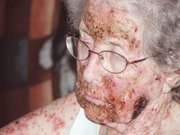 "I'm not a sun lover, and I've never laid out in the sun," Grosdidier said.
Although she had no great affinity for basking in the sun, the time she spent outside helping run the dairy she and her husband, Norbert, owned was enough to bring out a spot on her skin.
"It just started as a few small spots on my leg, and I kept on getting more spots," Grosdidier said.
The multiplying spots on her leg eventually moved her to visit a doctor where she learned her time outdoors had come at a price.
It was actinic keratosis.
"It could happen to anyone," Grosdidier said.
Actinic keratosis is a condition characterized by a breakout of crusty or scaly bumps often on the face, scalp or neck.
Doctors consider the condition, also known as solar keratosis, as a step leading toward skin cancer.
For Grosdidier, the bumps on her leg were a painful beginning.
The condition continued to worsen as it expanded across her body.
Eventually the condition spread to her face in a series of dark red discolorations and the resulting sickness sent her to the hospital on multiple occasions.
"It's quite unsightly," Grosdidier said.
As she progressed through treatment, she became sensitive to heat andlight, even to the point of dimming the glow of her indoor overhead lamps.
In her darkened home she maintained hope for her healing regimen of prescriptions and pain medications.
"You do that for a certain length of time and hopefully get everything," Grosdidier said.
The sickness also left Grosdidier and her husband with hope that her condition could be used as a force for education.
"She's the third person we know who has gone through the treatment," Norbert said.
The prevalence of the illness leads to two challenges the Grosdidiers see when it comes to educating people about the sickness ---- informing people about prevention and the importance of treatment.
"If you don't get the treatment, it's a death sentence," Norbert said.
Norbert said people should visit their doctor at the first sign of the discoloration.
"If they've got those spots, I hope they go to their doctor whoever he is," Norbert said.
Equally important, Grosdidier said she hopes her condition would be a warning and a reason for prevention.
"I just want people to be aware of this," Grosdidier said.
She said her efforts would be a success "if it could stop one person from getting it by being careful."
Education will become more important in the coming summer months because of the swimming and beach season.
"Being around water makes it worse," Norbert said.
The upcoming season also led to a wish by the couple for the city to build an indoor pool as part of an upcoming referendum for a new recreation complex.
The enclosed space would be good "mainly to keep out of the sun," Grosdidier said.
The Eudora City Council has informally discussed the option of creating an indoor pool, but the consensus of the council went against the option because of the required maintenance costs.
Although the possibility of an indoor pool isn't likely for Eudora, the Grosdidiers will keep prompting people to learn more about their skin.
"It's really not something you want to take too much chance with," Norbert said.
More like this story