New carpet store owners prepared to serve community
After spending years installing hardwood floors and tiles and nailing in dizzying varieties of carpeting, Kevin Lackner and his wife, Andrea, knew a change was in order.
What did they do?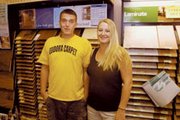 They became the new owners of Eudora Carpet.
"Installing carpet is very hard on the body," Andrea said.
Buying the store was about the future, she said.
Until April, Kevin had supported the family as a self-employed carpet installer while Andrea spent time home with their children.
One of his employers ---- Lisa Weaver ---- made an offer the family couldn't refuse.
"She told us she was selling the store and we wanted to buy the store," Andrea said.
Eudora Carpet specializes in floor coverings, which range from smooth hardwood floors to various tiles and laminates to carpeting for both home and commercial use.
The Lackners finalized the deal in April and have managed the store since.
"I hadn't planned on doing this forever, but it kind of just worked out that way," Kevin said.
In the intervening time, Andrea noticed some differences between her life five months ago and now.
For one, she's meeting new people.
"We've lived here for four years, but we didn't know that many people," Andrea said.
For Andrea, meeting new people has probably been the best part of taking over the store, she said.
But the experience hasn't been without drawbacks.
"For the last four years I've been staying home with my kids," Andrea said. "Coming back to work and not being able to be with my kids all the time has been hard."
Although Kevin and Andrea have been missing out on family time, they also realize the potential their new business has.
With new subdivisions springing up all around them, the opportunity for business is continuous.
"There's a lot of building going on and Eudora's getting bigger," Andrea said. "We're the only carpet store in town and that's a good thing. A lot of people like to stay local in a small town. That's also a good thing."
Having been around carpeting and flooring material so many years, both Andrea and Kevin know the tools of the trade.
Should a new homeowner come to them with no knowledge of how to cover their floors, the Lackners will help.
The first step would be tackling piece by piece the areas of the house needing to be furnished.
Andrea would next go over the decorating options for those areas, she said.
"You don't necessarily want to put a carpet in the kitchen," she said.
Kevin would also offer his input.
"I'd probably send my husband out to the site," Andrea said.
There, Kevin would take measurements and offer suggestions.
"People just want to find something they like at a good price," Andrea said. "People usually have an idea what they want."
More like this story