Volleyball quick to get back on winning track
It quickly cooled off outside, the chants from Eudora's students filled an opponent's gym and the opponents themselves were left walking back to the locker room with long faces and quizzical looks.
It must be volleyball season again.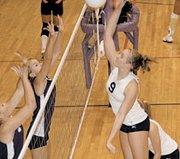 The Eudora volleyball team has made a habit of starting off its seasons with resounding wins and Tuesday's season opening tournament was no exception. The Cardinals blew past Baldwin, Basehor-Linwood and Bonner Springs in two games each for a perfect start to the season.
"It's always nice to get to 3-0 right away," Eudora coach Jill Stutler said. "It's a good start for us. I can't complain."
Stutler didn't complain and she really only found one area of the Cardinals' night to critique. One of the top questions facing the squad as it entered the 2006 season revolved around the setter.
Kelsey Epperson held down the position for four straight years, but Tuesday she could do little to help the team or organize the offense as she sat in the stands decked in Baker University garb, graduated.
Eudora turned to a pair of young players Tuesday to try and fill the hole, and afterward they received mixed, but optimistic reviews from Stutler.
Senior Paige Schultz worked part of the time while sophomore Mariah Webb worked the other part.
"Mariah is young and she's going to learn and Paige, this is her first year too," Stutler said. "Our setters got stronger as the night went along. If they can just get the balls to our hitters, everything else will open up."
Things seemed pretty open through much of the Cardinals' test drive.
First up was Basehor.
If there was one match Eudora was challenged in -- and that's a fairly large "if" -- it was Basehor. The Cardinals still won in two games easily, but the Bobcats managed the most points of any opponent and perhaps more than any other match, the setting issues were noticeable.
Eudora won the first game 25-11 and the second 25-14, in the closest game of the day.
The Cardinals coasted through the second match, against Bonner Springs, winning both games without allowing the Braves into double figures. Eudora won 25-6 and 25-9.
Finally the Cardinals closed the day out with a pair of wins over host Baldwin.
The Wildcats threatened to make a match of it in the first game. They clawed to within 11-6 after being down 10-2 at one point, but they could come no closer. Eudora went up 17-7, then 21-9 and finally won 25-12.
The Cards took the second game in brisk fashion, 25-7.
"We got the three Bs out of the way," junior Nikki Snider said of Basehor, Baldwin and Bonner. "We had some down spots, but we picked ourselves up. We played pretty well.
"We didn't really get an opportunity to show what we're made of, but I think once we get down the road we'll see it."
Now Stutler said it's back to the gym. Eudora has more than a week off before a Sept. 7 dual against Perry-Lecompton.
Despite the rousing success that was opening night, she said she'll have plenty on the team's to-do list for the week of practice.
"We need better consistency with our sets and timing, then we really need to work on our blocking. We really need to utilize our blockers better," Stutler said. "You can always be better, but it's just a good night to get your feet wet, to see where you are and what needs to be worked on.
"Now we have a solid week and a day before we have to play again, so we know what we need to work on."