Allison in the middle
Braden brings height, experience to team
She's the tallest girl on the Eudora girls basketball team. She's the only senior on the team. She sees a lot of play time.
With a lot of impressive things she could brag about, Allison Braden, who stands at 5-foot-11, prefers to focus on aspects of her game she hopes will improve.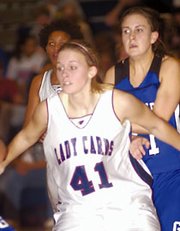 "I need to work on my speed," Braden said. "I'm not in very good condition. I also sometimes get in a hurry and I don't square up my shots, and I just throw it up there."
Braden said her height gave her a distinct advantage over anyone else on the court. Because of the size difference between her and anyone else, she said she was able to score points.
But in staying true with her modesty, Braden said she could not perform well without the rest of her team. She said the guards did a great job of making sure she had the ball a lot, helping her be successful.
And successful she is. The forward scores roughly 11 points a game. On average, the basketball team makes 45 points per game, putting Braden at making 24 percent of the team's points.
A lot of times, players work up to a leadership position throughout the entirety of their high school varsity career. Braden did not have that luxury. She said this was the first year she has played varsity.
"I didn't play my freshman year," Braden said. "This is my first year of varsity. I suited up occasionally last year, but this year I'm doing more. It's pretty exciting."
Perhaps Braden's modesty comes as a result of the stress she said she puts on herself. She said being the only senior on the team and being the tallest player on the team, she felt like people expected excellence from her all the time.
"I do put a lot of stress on myself," Braden said. "When game days come around, I'm not a very happy person to be around. I try to be focused. Being the only senior, I do take it harder when we lose because it is my last year, and I want to do as well as I can and as a member of a team."
When she's not practicing with the team, playing games or in school, Braden said she tried to always keep a ball in her hands.
Girls basketball coach Ryan Luke said Braden's continuous hard work during and outside of practice was evident on the court at game time.
"She works hard and gives us size and a scoring threat," Luke said. "I think she's really going to come on later in the season when we practice more. She's just a very hard worker."
Part of why Braden said she works so hard was to win the coveted Garbage Girl Award. Luke gives the GGA to the player who displays excellence in posting points, boxing competitors in, collecting rebounds and several other hustle categories during each game. Braden said the chance to win the GGA prize, a 16-ounce Gatorade, supplied her with a lot of motivation to always work hard.
Luke said he appreciated Braden's enthusiasm, and was going to miss her presence on the team next year.
"She's just relentless," Luke said. "She posts hard and gives us an inside scoring presence. She has a knack to finding her position. She's just a solid player."
More like this story