Spillman's best shot not enough
A sloppy first quarter on offense and some missed opportunities late undermined a strong defensive showing Tuesday as the Cardinals fell short for the first time at home to Gardner Edgerton, 41-40.
The team limited itself to just five shots in the opening quarter by turning the ball over nine times.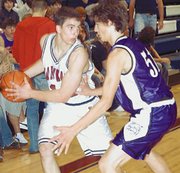 "We just had no rhythm," Eudora coach Kyle Deterding said. "We had nobody that wanted to take control. We're lucky we played our tails off on defense because we were still in the game."
Despite the offensive shortcomings, the Cardinals had opportunities to win, but those chances didn't pay off for Eudora.
Senior Rodney Spillman, who dominated with 11 of Eudora's 14 fourth-quarter points, drained a turnaround 3-pointer with .4 seconds remaining, but the shot cut the deficit to one and a short jumper that bounded off the rim with 5 seconds left became more glaring.
"I felt I wanted the ball and I could make a shot," Spillman said. "The shot didn't fall that I needed to fall. That's just how it happened."
The Cardinals' early defense helped keep the Cardinals from being run out of the building in the first quarter by limiting the Trailblazers to just 3-of-10 shooting and an 8-3 lead.
Eudora got things going in the second with an 8-0 run to take the lead, but stalled midway through the period as Gardner bounced back to regain the momentum with an 8-1 run of its own.
The Cardinals (9-4) finished the first half with a bit of flair to get back in the game when senior Mark Abel delivered a no-look pass to brother Matthew, who drained a 3-pointer at the halftime buzzer to get Eudora back within one, 16-15.
The home team seemed to get on track with a 9-0 run to start the second half, but echoes of the first quarter crept back into the Cardinals' game as they managed only four shots on three turnovers to finish the third quarter with a two-point lead, 26-24.
The Trailblazers stretched their lead to four with less than two minutes remaining in the game, but the Cardinals could not get closer than two before Spillman's 3-pointer with time nearly evaporated.
"We just missed the open shots in the last three minutes," Deterding said. "Sometimes they go and sometimes they don't."
In the loss, Spillman led all scorers with 19 to go along with 11 rebounds. Mark Abel added eight points in Eudora's second Frontier League loss.