Boys knock off one of Class 4A's best
A year ago, Kansas City Sumner needed just 10 minutes to put away the Eudora Cardinals en route to a 40-point thrashing.
On Friday, however, the top-ranked team in Class 4A let the Cardinals hang around for the entire 40 minutes and Eudora was able to take advantage of the generosity.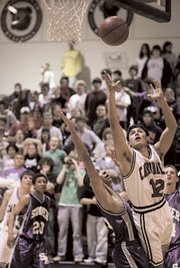 Guy Montgomery's free throw with 2.4 seconds remaining lifted Eudora to a 37-36 victory over the Sabres at Eudora High School.
Sumner had only lost to Lawrence on its way to a 12-1 record and the state's top ranking before heading to Eudora.
"It's a great feeling to come out and beat them," Eudora senior Rodney Spillman said. "They're the top-ranked team in the state and it really tells us what we're about as a team."
Spillman, who finished with 10 points, delivered the first two baskets of the game before the Cardinals were forced to withstand a 10-0 Sabre run behind senior DeJon Slaughter's eight inside points.
Eudora managed to keep the game close, despite shooting just 20 percent in the first quarter, including 0-for-7 from beyond the arc.
"We played good defense," senior Luke Abel said. "We missed a lot of shots, but we were able to slow them down."
The slow tempo helped the Cardinals hold the Sabres to just seven points in the second quarter, which included keeping the red hot Slaughter to only one point. The Cards needed all the defense they could muster, however, scoring just nine points in the first half. The defensive effort kept the Sabre lead in single digits, 18-9.
But slow didn't apply to the Cardinals offense as the third quarter began. Eudora took control for nearly six minutes and authored a 12-0 run, highlighted by 3-point baskets from Luke Abel and junior Todd Roberts, which gave them the lead for the first time since the opening minutes, 21-18.
The two teams traded baskets for the duration of the fourth quarter before Eudora made the first of two crucial trips to the free-throw line.
With the Sabres up 36-35, Luke Abel hit the front end of a one-and-one to tie the score before Montgomery was fouled beneath the Sumner basket for the go-ahead opportunity with time nearly expired.
The clutch free throw shooting was part of a 6-for-8 effort down the stretch to help keep the Cardinals in the game.
For the game, junior Mike Ortega scored six points, while Montgomery added five.