So long, Salem
After more than a century, Salem Chapel celebrates for the final time
Decades ago Felix Shutt first attended services at Salem Chapel ---- then a small Methodist congregation nestled between trees and other houses of worship on Church Street.
"'It was just a nice little church,' was all I thought, and people were friendly," Shutt said. "Of course I was prejudiced, I was going with this gal you know."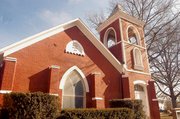 At the time he was seeing his sweetheart, Marion Abel.
"We were not, I don't know what you'd call it exactly, we were not the type of church that said amen constantly. We were kind of a solemn quiet group, but we had revivals in the church. I can remember attending some of them," Marion said.
Abel grew up, married Felix there, and had three children baptized at Salem Chapel.
"I tell you what, at the wedding I was nervous," Felix said. "Then after the wedding was over, we stood outside and the wind was blowing 15 miles and over, and we didn't have coats on ---- just jackets. It was a little chilly."
The newlywed Shutts withstood the 20-degree weather outside of the chapel to greet those who came to their wedding.
Chances are, 51 years later to the day on Sunday, the Shutts will again be meeting people on the Salem Chapel doorstep. Many others are expected to join them.
Two separate services ---- at 8:30 and 10:30 a.m. ---- will occur on the Shutts' anniversary and give locals a chance to say a fitting goodbye to Salem Chapel.
"I'll have mixed feelings I know," Marion said.
The congregation, originally the Evangelical United Brethren, built Salem Chapel in 1870 before merging in 1966 with what is now the Eudora United Methodist Church.
Because of the cost of upkeep and the impending construction of a state-of-the-art church on the south side of Kansas Highway 10, the Eudora Methodist United Church decided to sell the century-old property.
Sunday's farewell services were the brainchild of EUMC member Norma Heaberlin.
"I was in it for the first time this week, and it's a pretty neat little building, and I can very easily visualize services that were held there in the past. I'm looking forward to the one on the 12th," Heaberlin said. "In fact, I think I'm going to attend both services that day, because I think it's going to be a good day."
Although the church fell out of constant liturgical use in 1966, it didn't lose its value to the community.
In the intervening years it provided a home for youth groups, scouting troops and served as a meeting place for congregation members.
The Eudora Youth Service Organization helped maintain and renovate the building during the 1970s and occupied the building until recently.
"Its sole intent was to provide a main meeting place and to provide a place for youth groups in Eudora," John Scott, chairman of the board of trustees for Salem Chapel, said.
Youth activities at the Methodist church currently take place in the church's parsonage, Scott said.
Sunday's services will give other former members of the EUB a chance to relive the past.
Elva Kindred witnessed the unification of the two churches, and her great-grandmother helped build Salem, she said.
"I was raised in the church, so my memories go back a long time," Kindred said. "It's pretty dear to me. I've some wonderful memories and met lots of wonderful people there.
"That's where I claimed my Christian faith and where I accepted Christ as my savior at that chapel."
Following the services there will be a fellowship where congregation members can discuss what the legacy of Salem Chapel will mean to their church. The original drift-wood cross will be moved to the new church, as will the original church bell.
"There's a joy and there's a sadness," Kindred said. "I realize we're looking at greater things and better serving our community, but I'm sorry the Boy Scouts and other youth organizations won't be able to continue the use of that building."
At the same time, the fellowship will give those who have known Salem Chapel and its history a chance to look back.
"We're kind of attached to it," Marion Shutt said.