Tae kwon do-able
American Taekwando Association wants to form official Eudora chapter
Bob Brinkley leads a healthy double life.
He works as a real estate broker and as a martial arts instructor.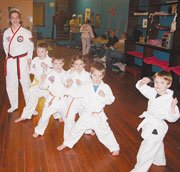 In the martial arts realm, he's a recommended first-degree black belt in the American Taekwondo Association.
He also has a mission.
He wants to officially establish an ATA dojang, or training area, in Eudora.
Brinkley and the sport are already no strangers to the city.
He and his 16-year-old daughter Fe teach classes in the Eudora Arts Center on Mondays and Wednesdays.
If Brinkley's plan comes to fruition, his class will expand faster than a sidekick ripping through the air.
"Once chartered, then we will have our own dojang, for ATA only, with state-of-the-art training equipment, mat and building," Brinkley said.
Brinkley's daughter also achieved a black belt, in ATA's Songahm discipline of tae kwon do.
"Like any martial art properly taught and properly practiced, tae kwon do is a non-aggressive and ethical system of self-defense," Brinkley said.
Both have also been trained and certified with the association to teach the style to others.
"You've got to believe in what you sell. I've been in mixed martial arts before in my younger days and I just love this ATA," Brinkley said. "It's just a blast. It's so much fun."
The classes offer training sessions for youngsters ages 4 to 7, teens and up to adults.
The youngest students are known as the Tiny Tigers.
Their class includes both discipline and exercise.
During one session, the youngsters practiced punching and kicking motions.
As the students practiced, very few lost an opportunity to make noise, sometimes associated with the moves.
Brinkley associated the youngsters' enthusiasm with the joy in learning new things.
Daniel Taylor's daughter Jayden, one of the Tigers, is a second-generation tae kwon do practitioner.
"She loves it," Daniel said. "She's got a lot of energy, and this definitely helps out with that and puts it to good use."
During the class, the Brinkleys work individually with students and teach them core values of fitness and respect.
Bob keeps the Tigers' energy up and focuses them by asking, "Are you ready to be awesome black belt?"
Apparently some are.
Best of all was the sidekicks, Jarrett Durrant said.
His classmate, Kendall Stiffler enjoyed a different part of the training ---- reciting the oath during class.
The oath, emphasizing life skills at the beginning and end of training each session.
Although many ages learn from the Brinkleys, who travel from the ATA office in Lawrence to teach in town, the group has yet to sign up the 40 students needed to fully break out into Eudora.
With classes enrolling, Brinkley is optimistic.
"Eudora is forecasted to have over 150 continuous students on the average," Brinkley said.
Classes for the Tiny Tigers (4 to 7) are from 5 to 5:30 p.m. Mondays and Wednesdays. Sessions for the older students are from 5:30 to 6:15 p.m. Mondays and Wednesdays.
The classes are open for all to experience, Brinkley said.
More like this story