The spirit creator
Local novelist channels love of horses into debut novel
Things just fell into place for writer Maureen Waters and chiropractor Jim Borgeson when they decided to collaborate on a novel.
Waters said she was having back problems when she decided to see Borgeson after a 15-year hiatus. She said Borgeson was talking about how he wanted to write a book with the proceeds going to his charity, Toby the People's Horse Inc., but he wasn't a writer, so he didn't know what to do.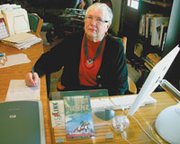 "I'm in his office, he's manipulating my back and telling me the story," Waters said. "I volunteered to do it. I had recently jump-started my creative writing skills, and he had a need for a writer. It was very serendipitous."
"Spirit Keeper" is the result of the duo's collaboration.
Borgeson said the publishing and selling of the book was a secondary way for the charity to make money. He said the primary fund-raising was to put all of Toby's stud fees toward the charity.
"We had a horse, so we decided to breed him and donate all of his stud fees to charity," Borgeson said.
Borgeson said $63,000 had been raised since the fund was created and hoped the book would help boost that number.
The charity disperses money to Douglas County community members who are in need.
"We go to Wal-Mart and get $100 gift certificates," Borgeson said. "Anyone who is a recipient, we try to make sure that person is at poverty level or below, at least at the time."
Waters said the novel was about the spiritual path a girl and her horse, Toby, take. She said the story contained several surprises and was an all-ages book.
Waters said although she loved animals and nature, she never intended to write a book about a horse, but the story just struck her fancy.
"As a kid, my dad always had horses around," Waters said. "I always enjoyed having horses around, but I never cared to ride a horse or write anything about horses."
Waters said she found the writing flowed freely.
"The first draft took me two months," Waters said. "I had absolutely no problems whatsoever. In fact, it was full of crazy, serendipitous things."
Waters said she did little research for the project, as anything she needed was right in front of her.
"When I moved to Kansas I decided to write a book, and that was 40 years ago," Waters said. "I did a lot of research then when I was writing a different book that was never completed. I saved all of the information and ended up using it for this book."
Waters said when she wrote, she didn't like to restrict herself to a set schedule.
"An average day would be I would do whatever I feel like," Waters said. "I follow my muse. I do that with everything."
Waters said she was attempting to get the book to a wider audience.
"We know Brad Moore, who is the CEO of Hallmark Hall of Fame," Waters said. "We're hoping it will turn into a movie, but there's no guarantee. We aren't holding our breath."
Borgeson said the book goes on sale soon.
"I just got the final proofed copy (Thursday)," Borgeson said. "People should be able to get it at Borders, Barnes and Noble and Amazon within the next month."
Borgeson said all donations for Toby the People's Horse Inc., are tax deductible and may be sent to P.O. Box 834, Baldwin City 66006.